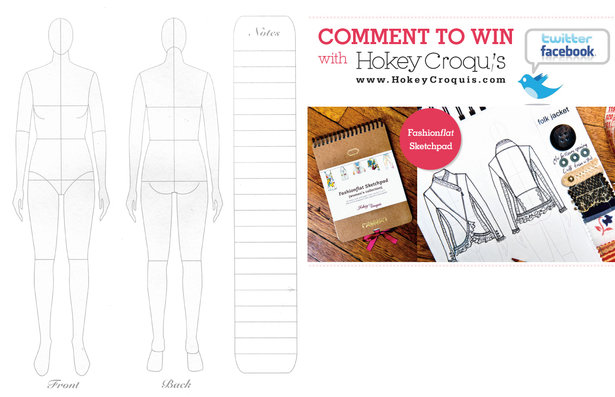 ShareThis
Finally realistically proportioned fashion CROQUIS!
A few weeks back I wrote about fashion croquis and our own sketching abilities. There were numerous comments on how absurd, or unrealistic fashion illustration body proportions can be. I'm guilty of drawing whimsical girls with legs longer than mother nature ever intended, because somehow to me it makes drawing more fun. It's like creating a fantasy world with my own cast of characters in cute attire…

Then come the technical flats, where proportions can no longer be fantastic but realistic. Flats translate your design concept into reality. They are diagrams of a garment lying "flat" and drawn on a proportionate figure. Hokeys Croquis Fashionflat Sketchpad (yes I got a free copy, but no, they did not ask me to write this entry) is a very cool tool indeed! You sketch your designs over the pre-printed croquis and then you can scan your sketch into the computer, eliminate the existing lines of the croquis so all that is left is your perfectly proportioned hand drawn garment. The notebook itself has a durable recycled-looking cardboard cover and a pretty fuschia ribbon to tie it closed.

Jealous? Well you can get one too! Click here!