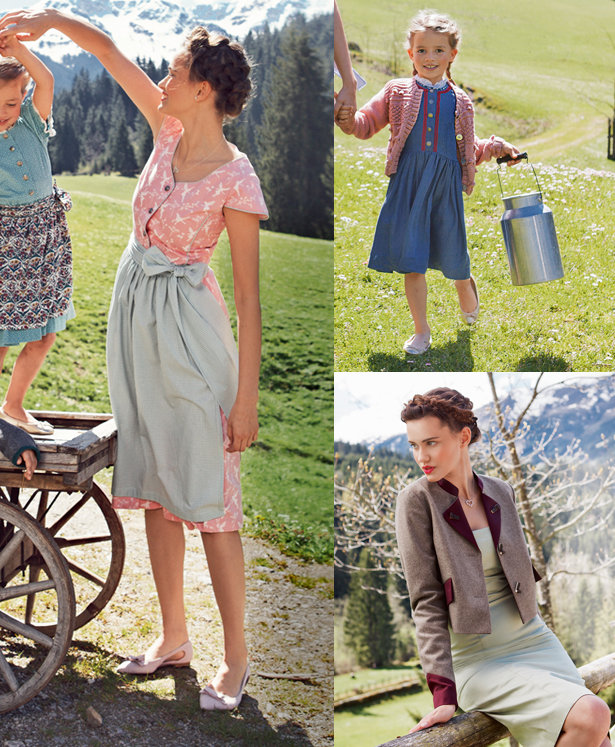 ShareThis
Take a trip through the hills in these old fashioned designs for you and the kids, perfect for Oktoberfest. These patterns are from the September 2014 issue of Burda Style magazine.
A sweet ruffled neckline finishes this peasant blouse. Tuck it into a full skirt for a delicate peasant look.
Floral batiste is just the thing for a short sleeved peasant blouse. This one has cute details like a ruffled collar and slit neckline. A 2-piece costume dress for special occasions. An outer layer has a dirndle skirt and corsetry with decorative lacing. The strapless bustier underlayer can be worn any time. It's so versatile!
A traditional dirndle dress buttons all the way down and comes with a full apron pattern. Sew it in denim or a modern floral for everyday wear.
This cropped jacket is prim and proper. Contrasting lapels and horn toggle buttons add up to a refined fall jacket to wear over dresses or jeans.
A full skirt has an attached apron for a costume-y peasant look. Pair this piece with chunky seventies wedges for real life, or turn it into a fun costume.
Send her back to school in a charming denim dress. This dirndle style dress is trimmed in bright red and could be worn as a jumper over long sleeved tees in the fall.
Play dress up in this prairie style dress with an included apron pattern. The bodice has buttons down the front and ruffled edges. Pick a solid color fabric and it's a dress for picture day or company.
Practice your quilting skills on this little jacket. Quilting makes it extra warm and gives it folksy appeal. Finished with trim and a stand up collar for hikes or school mornings.
A corduroy vest is quilted so it's extra warm and cozy. A patterned lining and buttons have a folksy heritage look. Make it in denim or solid cotton for a more modern piece.
More dressed up than a cardigan but just as soft. This detailed jacket is great for dress up with it's piping trim and stand up collar.
A little quilted handbag with the cutest heart shape. It's soft and durable for little girls to carry everywhere.
This hand knit sweater pattern is like a knitting sampler you can wear! It's soft and cozy in merino wool with easy lace repeats.
Happy Oktoberfest!