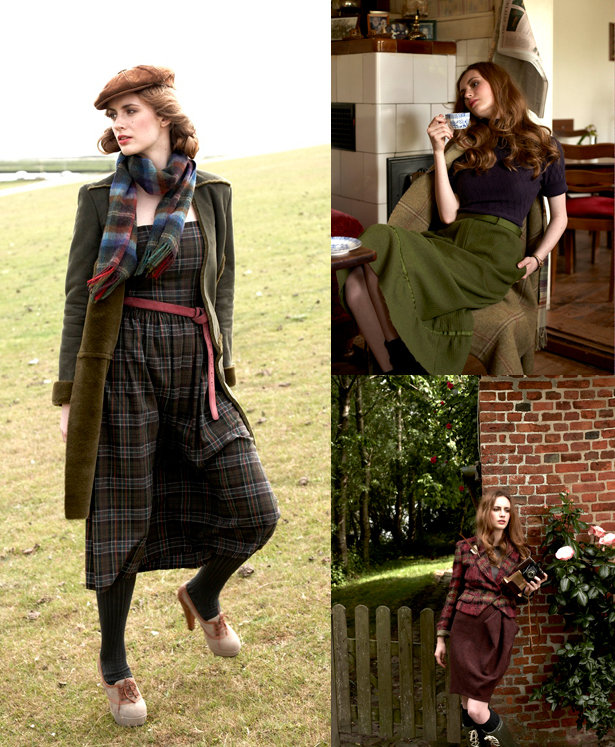 ShareThis
This classic autumn collection has designs inspired by the Scottish countryside, with cozy wool fabrics and large scale plaids. These designs are from November 2010 issue of Burda Style magazine. All instructions for previously published patterns have been updated.
Fall dressing is made easy with a cozy wool Skirt with Hem Frills. This piece has large hip pockets and a zip fly, with an adorable frilled hem. The woolen fabric in this model is left raw at the hem for a deconstructed finish.
Ombré loden cloth takes center stage in this coat, free from lapels or belt loops. The short high collar is easy to sew, just in time for the cold.
Embrace a softer look for fall in this crisp Short Jacket made over in brushed mohair fabric. This is a fun piece for casual Fridays at work with a pair of riding boots and an unusual skirt like the Skirt with Front Pleat.
The Knee Length Dress with Pockets is for sundress lovers! Wool plaid makes this knee length dress appropriate for fall. Layer it up with a cardigan and tights against the chill.
Keep warm on a highland hike in the Lambskin Coat This style is cut without the lapels, so it's a great choice to pair with all your snuggly scarves. The paneled design also works in faux leather.
Try on a menswear style with the Front Pleated Pants in corduroy for some texture. These pants are perfect for winter with a button up or a cozy sweater to complement the textured fabric.
Cozy up in wool patterns for him and her. The Wool Jumper Dress can be worn alone or slipped over a long sleeved tee. The Men's Knit Sweater is a beginner friendly knitting pattern with a simple knit and purl texture.
Plaid wool has a vintage look in this midi length Coat with Mandarin Collar. The seamed waistline and slightly flared skirt are nice and feminine so you don't look too bulky.
The Cropped Slacks have a modern look with an ankle length hem and no waistband. Pockets are hidden in the side seams. These trousers are ideal for showing off a fun pair of shoes.
The Gabardine Jacket is a perfect first jacket project! Gabardine isn't too hard to sew, and the cardigan style shape has no tricky details. You can style it with a belt for structure.
Even beginners can make cozy outerwear with this easy to sew Plaid Jacket. Loden cloth doesn't need hemming for a quick finish.
Wool plaid is left unfinished at the hem to give the Full Wool Skirt with Pockets a rugged look. The peasant style has a narrow waistband, hip pockets, and fullness that looks good with chunky fall shoes.
Cables make the Men's Knit Cardigan a little more advanced, but it's still a beginner knitting pattern. Any man will love the chunky handknit texture. It also looks good on women with a pair of leggings or skinny jeans.
This collection has a rustic feel that will make you want to kick through some leaves and sip hot cider. Winter isn't so bad with the right outfits!
Happy sewing!