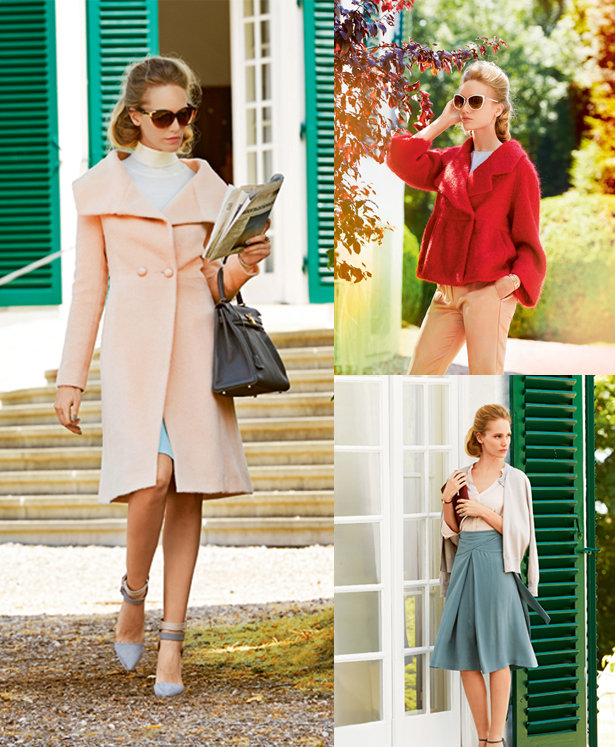 ShareThis
Dress up outerwear with deep shawl collars and sew up a lovely fitted dress with a flounced hemline. The High Society collection is from the November 2014 issue of Burda Style magazine.
Make this Short Peplum Coat the focal point of your whole outfit in cheery red mohair. It's a retro, girly topper for your fall wardrobe.
A lovely Pleated Blouse with refined, pared down style. A pleat at the front creates a gentle A line silhouette. The crew neckline is perfect for flaunting a set of pearls or statement necklace.
Stretch jersey hugs your curves in this beautiful Fit and Flounce Dress. The sleeves and hem are flounced with angular gathers in perfect contrast to the fitted silhouette. This dress is sophisticated and sexy with a ready-to-wear look.
Turn down the Shawl Collar Wool Jacket for the illusion of a coat that slips off the shoulder. Wool fabric keeps it warm and cozy, and it's belted at the waist for a trim retro fit.
The Shawl Collar Fit and Flare Coat is absolutely ladylike with a turned down shawl collar and fit and flare silhouette. This coat looks adorable with skirts, dresses, or cropped trousers.
Layers of crêpe de chine get movement from an inverse front pleat. This Wrap Skirt has a pretty, modern look that's finished off with a wraparound tie at the yoke. It's a fresher, more interesting take on the traditional full wrap skirt.
Sew two shirts in one with this long sleeved top with mock puffed sleeves. It's a fun twist on a casual jersey tee. Make it even more special with sparkly lamé jersey.
This collection is a pretty take on outerwear that won't ruin your whole outfit with a bulky overcoat. Instead, these jackets and coats pull your look together with elegance and charm. You don't have to give up style for warmth!
Happy seewing!