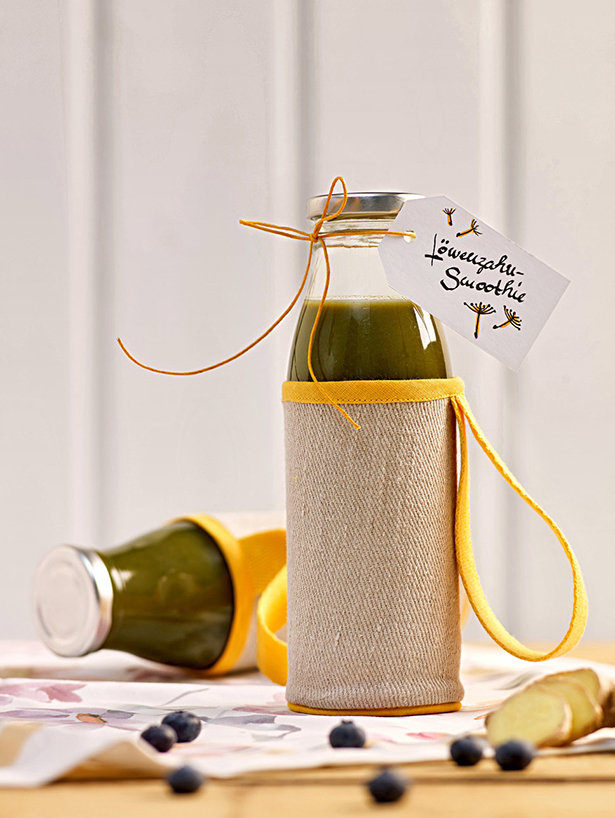 ShareThis
This handy smoothie bag is a spring and summertime must have! The bag is not only very stylish, but also super practical – It protects our glass smoothie bottle from breaking and sunbeams. Read on to see how to make…

+ Decovil
+ Vliesofix
+ Fabric
+ Trim
+ Carrier tape
+ Yarn
+ Glass bottle
+ Scissors
+ Patchwork ruler
+ Tape measure
+ Chalk
+ Pins



Step 1: Put bottle on decovil and mark the bottom with chalk stick.
Step 2: Cut out.



Step 3: Iron Decovil floor to the left side of the fabric.
Step 4: Cut with 1 cm seam allowance.



Step 5: Iron fabric with Vliesofix, iron on the Decovil-bonded floor and cut to size.
Step 6: Measure bottle circumference and height (here: 21.5 × 13 cm).



Step 7: Draw rectangle with these measurements and 1 cm seam allowance around on fabric and cut to size.
Step 8: Fold up the bag carrier (about 20 cm) and sew it to the desired place at the top of the fabric.



Step 9: Put the bias tape on the upper edge.
Step 10: Border the edge with the bias binding.



Step 11: Pin the piping tape at the bottom edge – edge to edge with the piping inside – and stitch it tight.
Step 12: Overcast the two side edges with the overlock or zigzag stitch.



Step 13: Close the back center.
Step 14: Finally, evenly attach the soil and quilt all around. If desired, cut back or suture the seam allowance at the bottom.



Finished, and totally picnic ready! A picnic you say? You'll need a cute outfit to match:



Try sewing up this matchy-matchy outfit using our Boxy Top pattern paired with this A-Line Skirt.



Need somewhere to place your smoothie out of the bag? DIY one of these adorable Citrus Coasters!