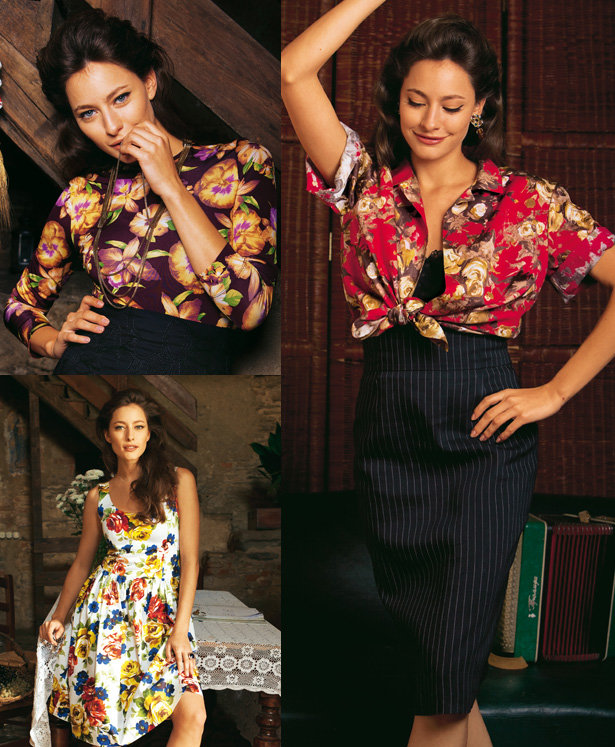 ShareThis
Dance and flirt in a collection of sexy skirts, bustier tops, and full skirted dresses. These designs are from the February 2011 issue of Burda Style magazine. All instructions have been updated. All instructions for previously published patterns have been updated.
Take on this ultra feminine business look. A high waisted Pinstripe Pencil Skirt slims your waist and flatters your bum for the ultimate bombshell silhouette.
One of our most loved patterns! Draft your own full skirt to go with the darling cap sleeve bodice to make this dress. White organza makes a gorgeous party dress, but you'll want to sew one up in every day cottons to wear all through the spring.
A body skimming Floral Jersey Shirt is an essential layer for skirts and high waisted bottoms. The basic crew necked shape is perfect for those big prints you can't resist at the fabric store.
Show some skin in this decolletage baring Bustier Top. Cap sleeves take it out of the bedroom and into candle lit restaurants or a romantic picnic. Looks great with high waisted pieces.
The essential Stretch Pencil Skirt in a bright floral. Brighten up any outfit with this bombshell staple. Features a fun riff on the kick pleat.
Draft your own full skirt to go with a pretty tank bodice to make this summer dress. You'll want to wear this dress to tiki parties, spring weddings, and afternoon dates. Pick a bold floral to get noticed!
Gathers won't overwhelm your frame with a high nipped in waist. This peasant skirt is fun to wear with a small sexy blouse like the sweet Scoop Neck Top. Don't forget bombshell curls and some plum lipstick.
A Cropped Jacket with hidden buttons covers up skimpy tops without throwing off your look.
Tie it up or tuck it in… this Three Quarter Sleeve Blouse is so versatile! Make it in a bright floral for a Hawaiian style shirt that's cut for a woman.
Finish your look with a bold floral Jacket with Buttons. An empire seam line adds shape.
Eyelet lace and satin make a lightweight Short Coat you can throw over skirts and dresses. It's ladylike enough to wear with all those girlie outfits when there's a breeze.
Flirt away an afternoon or evening in a Bustier with tank straps. Toss it over cutoffs for a casual daytime outfit, or vamp it up with a high waisted skirt and retro hairstyle.
This collection has fun construction details to keep you busy until spring arrives. Warm up with some bold florals, pretty eyelet lace, or sexy curve-hugging silhouettes!
Happy sewing!