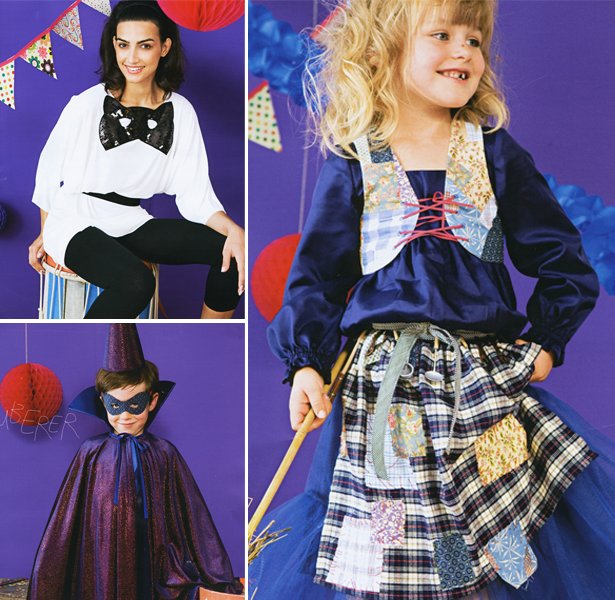 ShareThis
Halloween is just around the corner, and it is is perfect opportunity to make something special! We are releasing these special costume patterns from burda style magazine's January 2010 issue. Check out all these great children and adult costume patterns.
This little witch costume is so adorable and can be made in a variety of different color and fabrics. This Witch Dress is just the right amount of spooky, and it comes with an underskirt and apron to add volume. It is paired with the matching Witch Vest that completes the look.
Make magic happen in this cool wizard costume. Wear the Wizard Cape and Hat over the Wizard Dress for a enchanted look.
This adult Kitty Top makes a cool top to wear for a Halloween party!
This Princess Costume will make your little girl look and feel like royalty. Make her dreams come true in this pretty-pretty princess costume with included over and under skirts for that extra poof.
Yeeee Hahhh ! Take a look at this cowboy costume complete with Vest and Trousers .
This cute Embellished Fringe Costume will make your little girl feel special.
Arrrrrrrgh Matey. To get this funky pirate costume pair the Pirate Vest and Pirate Blouse together for a winning combination.
These little Pirate Pants make a great addition to your little one's pirate costume!
Kids can't have all the fun! Here is an adult Pirate Costume that includes eye-patch, sword appliqué, and tie.
Who's that? It is masked Zorro! This little Zorro Vest is adorable and comes with the mask pattern.
Complete the Zorro look with this Cape pattern that will add that extra special touch to your costume.
Look into the crystal ball…we predict you will make this Fortune Teller costume.
The countdown to Halloween is on, and you only have 27 sewing days left to make your costume !
Stay tuned next week when we release more Halloween costumes for children and adults.
Happy Sewing!