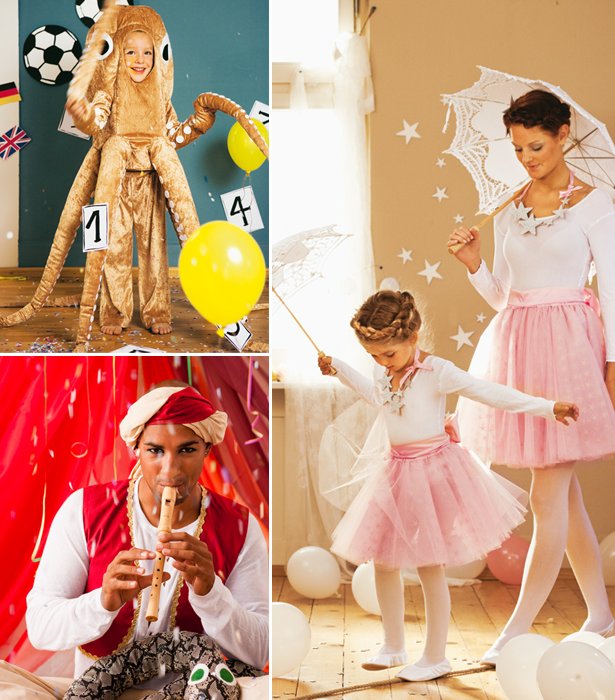 ShareThis
Halloween is sneaking up behind us…BOO! And what better time of the year to make yourself a unique costume for trick-or-treating or monster mashing. We are releasing these special costume patterns from burda style magazine's January 2011 issue. Check out all these great children and adult costume patterns.
Who is that saving the world? Why it is SuperKid! This SuperKid Costume will make your little one feel like a hero on Halloween!
This super look is completed with matching Cape for that special touch.
Your little girl will fly in this bright Butterfly Costume.
What makes this costume extra special are the magnificent Wings included in the pattern!
This Octopus Costume is the life of the party!
Swim the sea in this quirky Costume that is complete with matching trousers.
This Snake Charmer Costume vest is perfect for that Halloween party and is complete with instructions on how to make the snake and hat!
To get the full effect make the matching Harem Trousers. These trousers can also be make for a number of other costumes!
Get magical in this lovely draft-it-yourself adult Fairy Costume. It comes with instructions on how to make sash, tutu and starry necklace for a perfect look.
Like mother, like daughter. Here we have a matching little girl's Fairy Costume.
This little Costume also includes a sash and starry necklace for that magical feeling on Halloween.
Your child will act like a little monkey in this fuzzy jumpsuit. The Monkey Costume is even completed with a matching tassel hat.
Your little one will hop door to door trick-or-treating in this little Bunny Costume jumpsuit.
Complete with a bunny tail, this Costume will sure spark magic.
This easy draft-it-yourself Popeye Inspired Costume includes instructions on how to make your own muscly arm! Be the life of the party in this costume and it is sure to attract all the ladies.
Make your little one roar on Halloween with this cute Lion Costume jumpsuit.
The countdown to Halloween is on, and you only have 20 sewing days left to make your costume !
Stay tuned next week when we release more Halloween costumes for children and adults.
Happy Sewing!