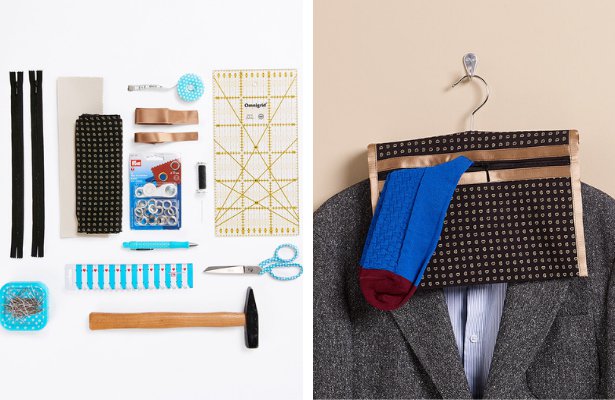 ShareThis
Starting the new year by getting organized? These organizers for jewelry, socks, ties and more keep everything in place together. Whether at home or while traveling: the organizers can be easily pulled onto hangers with a closed eyelet. So everything stays well tidy and nicely sorted for perfect outfit planning. Also If you're trying to use up some fabric scraps, why not cover your wire hangers with fabric to help delicate garments from not slipping off!


+ Cotton (100 × 40 cm)
+ Decovil
+ Ribbon tape or bias binding both 1.5 cm and 2.5 cm wide
+ 2 Zippers each 25 mm long
+ Thread
+ Pins
+ Hand sewing needle
+ Patchwork ruler
+ Tape measure
+ Pen
+ Chalk
+ Grommet
+ Scissors
+ Hammer
+ Instructions (download here for FREE)



Outfit planning for the month? Put everything on one hanger and all your accessories in the zippers pouches of this hanger organizer.



Then simply place over your hanger through the grommet!



Fill with everything from socks to underwear, and even makes a fabulous little gift for men to keep organized.



Make a bunch in different fabrics and patterns to brighten up your closet and use up fabric scraps – but have even ore fabric scraps? Try these hanger covers below…



For a pattern, place the hanger on paper and add 1.5 cm (fullness and seam allowance) all around. Cut cover pieces 2x from fabric and 2x from fusible batting. Iron volume fleece to the wrong side of the fabric pieces then mark the center at the upper and lower edge of the cover. Pin pieces right sides together and sew along the upper edge, one end and the middle at the lower edge (seam width 7 mm), leaving approx. 5 mm open at the upper edge in the middle for the hook. Flip to the right side. Slide the hanger into the cover, pushing the hook through the opening. The remaining open reference edges are sewn together by hand.
Happy DIYing!