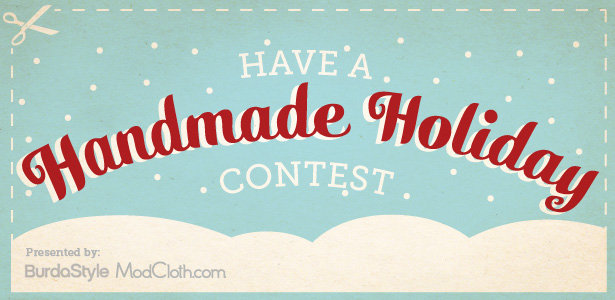 ShareThis
Update: Addition to rule #4 – Please include a link to the ModCloth item your project compliments.
It's that time of year again, time to start checking off that holiday shopping list. It can be hard to find everyone on your list just the right gift, and we all know the best ones come straight from the heart. We've paired up with our good friends at ModCloth to challenge BurdaStyle members to make a handcrafted holiday gift for someone you love and score yourself a sweet $100 gift certificate to ModCloth!
The rules are so simple you can count them on one hand:
1. Projects must be a fashion accessory. We're thinking hats, bags, mittens, and even shoes. These small projects make great gifts!
2. Projects can be made by sewing, knitting, or crochet (or all three!).
3. Projects must be posted in your BurdaStyle studio, with "ModCloth Handmade Contest" included in the title (no email submissions please).
4. Projects should complement a ModCloth item. Check out ModCloth's Handmade and DIY Section for inspiration! Please include a link to the ModCloth item your project compliments.
5. Projects must be made for someone you love (including yourself)!
You have until 11:59 PM EST on Tuesday, December 21th to post your project. The ModCloth editors will narrow down the entries to their top 25 and a slideshow of the finalists will be up for voting on Tuesday, December 28th.
ModCloth judges will be searching for "ModCloth Handmade Contest" projects, so don't forget to include the line in your title!
Two winners will be chosen – one based on votes of our members and one chosen by the ModCloth editors themselves – and each winner will receive a $100 gift certificate to ModCloth! Now how's that for a giving and getting? The winners will be announced on January 4, 2011!
This contest is open to all BurdaStyle members. There is no limit to the number of projects "submitted" by each member. For full contest rules click here.
We can't wait to see what you come up with!