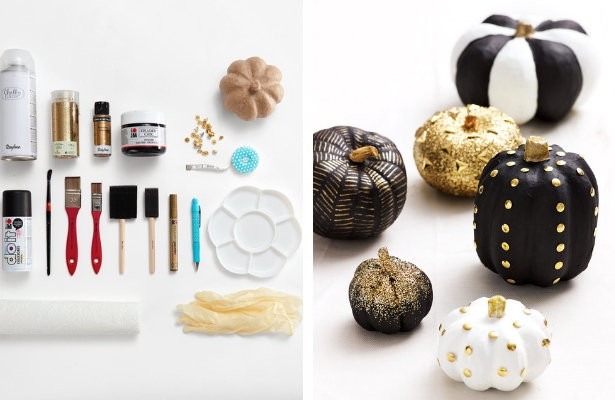 ShareThis
This sparkling pumpkin decoration is an absolute eye-catcher. It's perfect for your upcoming Halloween party or as a table decoration for the fall, this DIY looks glamorous and will make you now want fall to end! Whether spray paints, paint crayons, glitter or rivets – in this autumn decoration there are no limits…

+ Chalky finish spray
+ Acrylic metallic extreme sheen
+ Chalky chic chalk color
+ "Do it" chalkboard spray
+ Brush
+ Sponges
+ Brilliant painter
+ Decorative pumpkin
+ Thumbtacks
+ Tape
+ Chalk
+ Gloves
+ Kitchen roll
+ Color palette



Step 1: First paint the stalk with the "Metallic Extreme Sheen" color in gold and let it dry well.



Step 2: Then paint the pumpkin with the "Chalky Chic" chalk paint. Alternatively you can spray on it with a spray.



Step 3: Before the color is dry, the pumpkin can still be decorated with scattered glitter as desired. Then let it dry.



Step 4: To attach the tacks, let the pumpkin dry first. Then measure distances and mark with chalk pen.



Step 5: The tacks can then easily be pressed in the marked areas.



Step 6: If you like, you can also decorate the pumpkin with the Brilliant Painter: Simply draw strokes at irregular intervals.



Finished! Decorate a variety of different sized pumpkins and arrange together for an interesting look.
Want more spooky decor ideas? Click the image below!



Happy Halloween! Are you planning on making your own costume? If so, what are you guys going to be? Need some ideas? Shop all our costume patterns here!