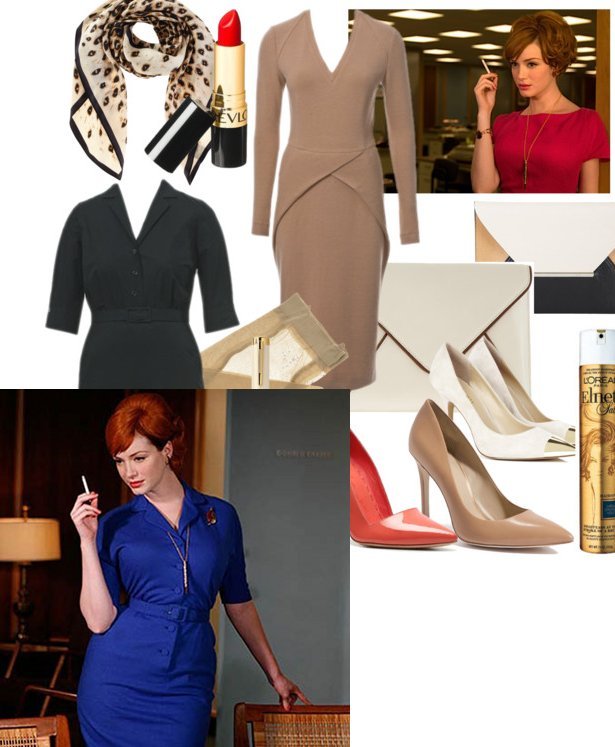 ShareThis
Channel Joan Holloway for a vintage look that works for Halloween parties or an evening out!
Mad Men's Joan Holloway is the one character most viewers can agree to love. She's whip smart, beautiful, impeccably dressed, and makes the most of being a working woman in the 1960s. Copy her look for Halloween (or any day of the week) with one knockout dress and a few simple accessories.
A figure conscious dress is the first step to Joan's bombshell look. The Pleated V Neck Dress (in pink, below) is form fitting and modern. The pleating on this dress also helps create an hourglass look on boyish figures. The Belted Dress (in black, below) is a good pick for women already blessed with Joan's curves. Joan would love the nipped in belted waist and deep V neckline. Even better, this dress is a dead ringer for Joan's cerulean number, above. Other great options are the plus sized Pleated Dress and the Princess Sheath Dress, which has a lovely sweetheart neckline. Joan is partial to bold, notice-me shades, so try these patterns in a bright blue, pink, or crimson.
Once you've found your perfect dress, just slip on some silky nude stockings and a classic leather pump. Joan never has a hair out of place, so use plenty of hairspray for her signature bouffant. Red lipstick is also a must. Revlon's Cherries in the Snow has been around since the fifties, so try this shade for an authentic retro pout. Tuck a gold fountain pen into a clutch purse, and you're ready to rule the office!
You can sport this iconic look at a costume party, but it works just as well for days when you need extra feminine confidence. Who's your favorite TV character?