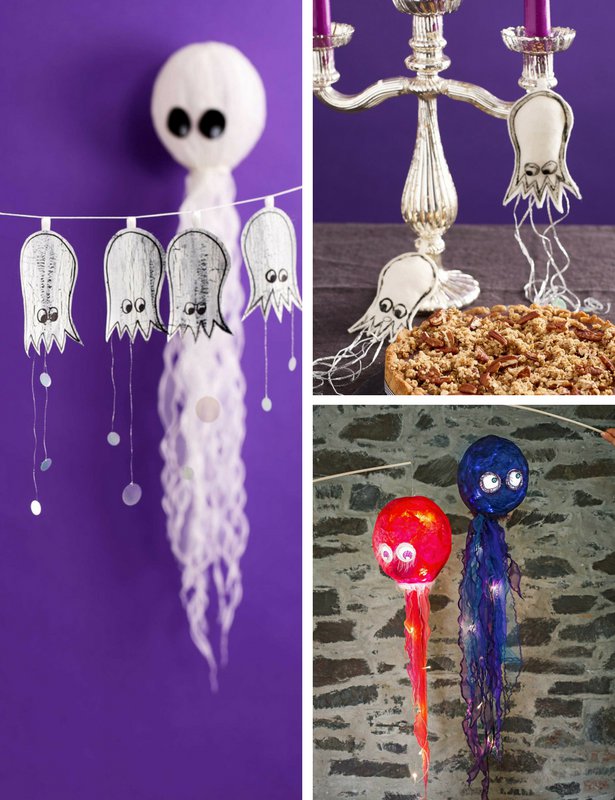 ShareThis
Perhaps you have your costume complete and you are looking for something else to create? Or you still yet to make your costume and need to get in the creative flow first… Well look no further than these spooky decor ideas for your Halloween party including ghosty garlands and pendants as well as jelly fish lanterns.

This creepy decoration can not be missed. These ghosts are already moving in and fill the walls and ceiling.



+ Spray adhesive
+ Cardboard
+ Chalky colors
+ Permanent marker
+ Crackle paint
+ Brush
+ Pencil
+ Yarn
+ Satin ribbon
+ Scissors
+ Sequins
+ Template (download here for free)



STEP 1: Paint black chalky paint on cardboard and leave to dry. Then cover with crackle paint and let it dry. Lastly paint with white.



STEP 2: Trace and cut template. With permanent marker draw border and paint eyes. Attach some yarn dangling below the pendant with a knotted sequin and glue looped ribbon at the top and thread through more yarn or ribbon to create the garland as long as you want with as many little ghosts as you want!



These ghost pendants are great to dress up the place more creepy on Halloween. Add to your table if you are simply holding a ghostly dinner party.


Here is what you'll need:
+ Sheet of foam rubber
+ Felt
+ Fiberfill
+ Black sequins
+ Textile paint
+ Silver and black yarn
+ Brush
+ Scissors
+ Pins
+ Hand sewing needle
+ Satin ribbon
+ Pencil
+ Template (download here for free)



Cut the template (body and eye) out of foam and paint with black paint as pictured.



Then stamp on the felt and allow to dry well.



Then stitch outer circle of eyes and sew sequins by hand. Also stitch ribbon at the top for hanging.



Pin another piece of felt underneath and sew around design with machine just outside of the paint line also sewing in the hanging ribbon. Only stitch the sides and top of the ghost, leave the jagged edge open (will fill with batting later).



Cut just to the outside of the stitching line around design making sure to not cut off the ribbon and instead the felt on either side. At the bottom edge cut ONLY the top layer following the pointed design lines.



Fill with batting, knot sequins on the ends of the silver threads and insert into the ghost between layers. Now sew along the bottom pointed/jagged edges pivoting at points and catching the silver threads. Trim excess fabric.



Create ambience and glow for your party with these creppy jelly fish lanterns. Children will love to hold and play with these and can even be taken trick or treating!


Here is what you'll need:
+ Tissue paper
+ Tulle
+ Felt
+ Fabric scraps
+ Wallpaper paste/glue
+ Balloon
+ Rubber gloves
+ Buttons
+ Thread and yarn
+ Spray paints
+ Glue
+ Chalk pencil,
+ Scissors
+ Needle
+ Compass



Tear tissue paper into small pieces. Dip each of these pieces in wallpaper paste and adhere to inflated balloon, to cover the balloon entirely (leave openings on top and bottom, for the lantern stick).



Let paper dry thoroughly. Pop the balloon, with a pin, and remove it. Now spray with spray paint.



For each eye, cut 2 fabric circles, approx. 6 cm (2 1/2") in diameter. Lay circles together and stitch yarn irregularly around edge.



Sew button to each eye, as the pupil. Glue both eyes to the balloon.



For the tentacles, cut irregular, bias strips from tulle. Stitch along edges with overlock stitch, while pulling the tulle tautly, to form wavy edges.



To reinforce the top and bottom openings, cut felt rings (top ring approx. 5 cm/2" Ø with 1 cm/3/8" Ø opening, bottom ring approx. 14 cm/5 1/2" Ø with 3 – 4 cm/1 1/4" – 1 5/8" Ø opening)



Stitch yarn irregularly around bottom ring. Glue rings to outer side of lantern, around openings.



Finally, sew tentacles around lower edge, by hand, and insert the lantern stick with light (available from Rayher).