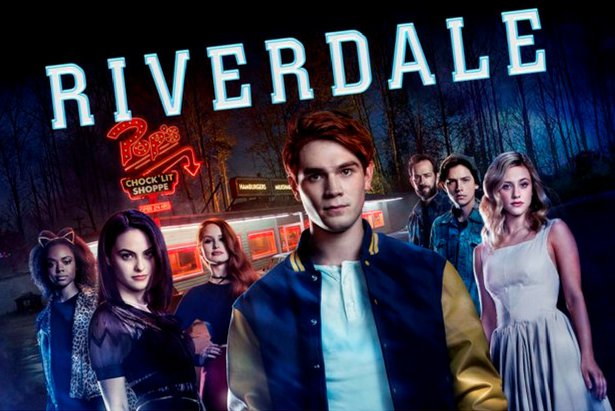 ShareThis
I don't know if you are like me, but my latest TV show obsession is Riverdale! If I wasn't in Italy this Halloween my squad and I would totally dress up as the cast and I would be Cheryl Blossom of course. Each character has their own signature style that is easy to recreate by either pulling items from your own closet or sewing up something new. Read on to see suitable sewing patterns you can use to dress up as Archie, Betty, Veronica, and Josie and the Pussycats!

Let's kick it off with everyone's favorite red head… Archie Andrews. Archie is seen mostly wearing his signature jacket, a football for the field and a guitar to bring out his sensitive side. Use our Letterman Jacket men's sewing pattern to make Archie's signature jacket but instead monogram a large A on it and sew it in blue and yellow wool. Wear with a simple T-shirt, jeans, and a red hair short wig to complete the look.



Betty is known for her kindness and preppy style! Below that blond high pony tail you'll find her in an assortment of sweaters and shirt with jewelled collars with a pastel mini skirt or skinny jeans. Make our Mini Flap Skirt with our Cropped T-Shirt and wear over a simple white blouse. Don't forget to bling up the collar though! If you don't want to wear layers simply take just the collar pieces from your favorite blouse sewing pattern and make up in a white cotton and add embellishments. Also make sure to have a milkshake in hand.



Veronica is always spotted wearing something black and expensive, and always wearing heels! To get her loop try sewing our Lace Collar Top with Leather Pencil Skirt and pair with some black stilettos and a pearl necklace. Also be sure to pick up a brow pencil to define those eye brows!



Dear Cheryl, my favorite… I love her matching red hair to lips to outfits so much! One of my favorite looks is this wintery red cape like our Double Breasted Cape sewing pattern that she taps trees with for syrup. To complete the look also make a matching red plaid skirt using our Ruffle Skirt pattern and don't forget to apply tons of bright red lip stick.



Last but certainly not least are Josie and the Pussycats! Simply through on anything leopard and some cat ears and you're good to go. But if you want to sew something new try making our Leopard Print Mini Skirt with our Leather Bustier as you will get much wear out of them after Halloween as separates.


And if you want to be Jug Head browse through your closet for some jeans, plaid shirts, and of course a knitted hat! You could also grab a leather jacket and add a snake to the back to be one of the Southside serpents.
Happy Sewing and Halloween!
Meg