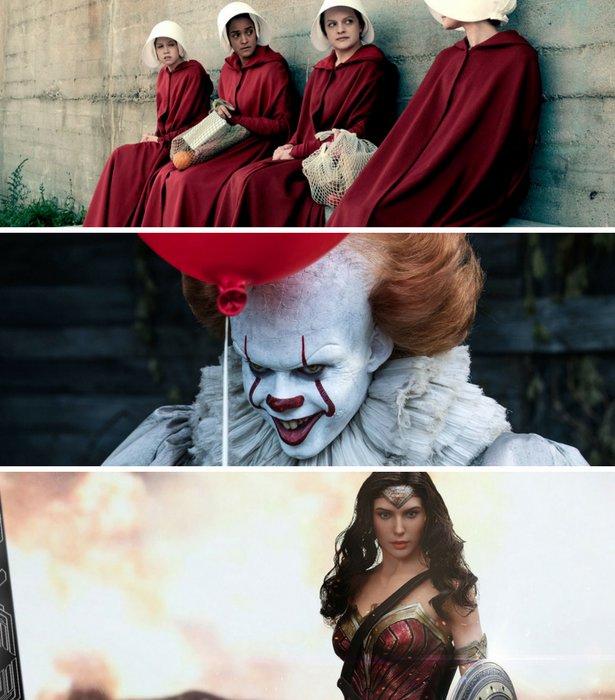 ShareThis
For Halloween I always like to try and be something that is "current", hence my The Dress costume for 2015… It seems this year was all about clowns, super heros, and handmaids. With some sewing skills you can easily create a current costume perfect for Halloween 2017, read on to see some pattern suggestions to make this year's top figures in pop culture.

Let's kick it off with the move "IT", now this was one of the first scary movies I saw when I was little… the original one that is. And needless to say, I don't think I'll be watching the new one as I'm still recovering 15 or so years later (I'm not a fan of horror movies, haha). But I can appreciate people who are, my partner has to wait until I go out of town (usually when I go to sewing expos, or filming a new sewing course) to get his fix of horror.
This year seems like the year of clowns, from this movie "IT" as well as "American Horror Story" which heavily incorporated clowns into their this year's season.



If you want to embrace the clown trend and be Pennywise the clown try making yourself and your little one a clown costume! We have one in adult size as well as children's size, and to make it more spooky wear some fake blood and sharp teeth!



Don't forget a wig!



Perhaps you are not into clowns, and want to be the other shining star on the "IT" movie poster. All you need to do is grab a yellow rain coat (or make one using this rain coat sewing pattern), a red balloon, and some rain boots. Also carry a paper boat and you are good to go. You can make a matching children's rain coat as well if you want to match your little one.



Now this is a show that I did indeed watch. This year the classic book by my fellow Canadian Margaret Atwood was turned into a TV show and even scored an Emmy!



I suspect this will be a trending look for Halloween 2017, and it is easy to achieve. Make a long red cape using this sewing pattern and pick up a white bonnet to wear with it.



Another strong female role this year was Wonder Woman!



You can probably find this costume already made in your local costume store, but we all know that those costumes are so expensive and cheaply made! So why not flex your sewing skills and make up a matching bustier and panties in red, blue, and gold fabric.


Were you planning on being a 2017 pop culture figure this year for Halloween?
Game of Thrones fan? Check out my post here for costume inspiration!
Happy Sewing!