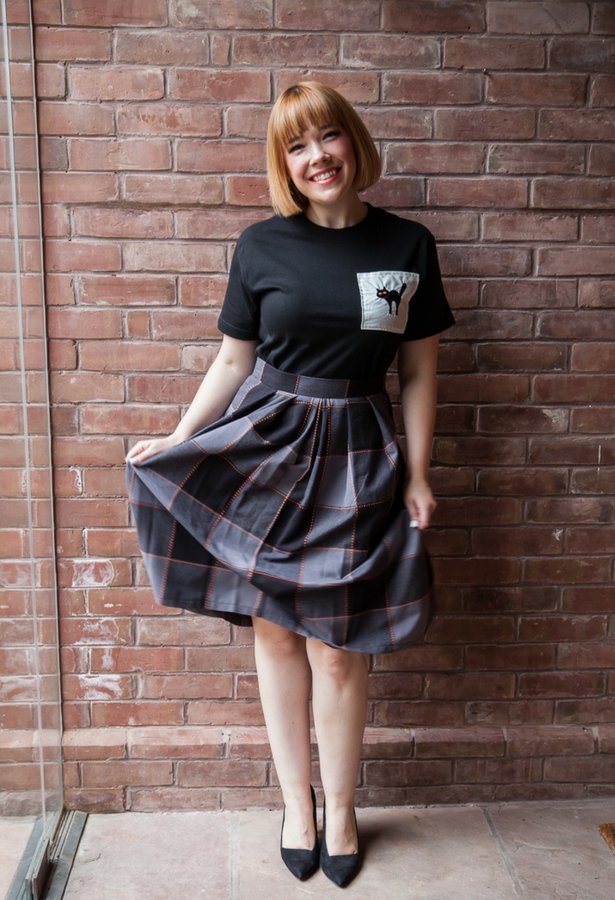 ShareThis
Even though Halloween is less than a week away you still have plenty of time to plan something to make and wear for the holidays. Read on to see some quick things that you can whip up as well as an option for if you just want to be Halloween festive…
To create this festive, but not "costume-y" look I first found a fabric that had Halloween colors in it. This nice plaid was actually found in the home decor section of the fabric store and was labeled as table linen, but as soon as I saw it I thought this would make a nice skirt! I also like the fact that it can be worn after Halloween and still look like a fall skirt, but for a Halloween party I also made a T-shirt with a spooky black cat embroidery.

To first make my Halloween holiday skirt I used our Pleated Skirt pattern from the 09/2017 issue and it was perfect! The pleats looked great with the plaid print in the fabric and gave the skirt nice volume. I also loved the hemline length.



This skirt was so simple to sew and it all came together within an hour or so, only the front has pleats and the back is kept simple and secured with a center back invisible zipper. The pattern called for a petersham ribbon waistband, but instead I drafted a rectangle my waist size to insert.



Here is the finished skirt with my top! This is a great option for those who don't want to go full out on Halloween but still want to be festive.



To make the shirt I simple picked up a cheap black T-shirt, but you could also make one using this top pattern. To make it festive and match my skirt I just wanted to add a little detail to the T-shirt so I decided on a little patch pocket with embroidery. I hooped some scrap white cotton with stabilizer and loaded this cute spooky cat design to my Brother machine.



I only needed two thread colors, black for the body and matching orange for the eyes to match the stripe in my skirt fabric. I love watching my embroidery machine go!



Just a couple of minutes later it was complete. I snipped my thread, un hooped, and tore away my embroidery stabilizer then gave my design a good press.



I trimmed down the fabric around my design and ended up going with a square pocket shape.



Next was to press in all of my pocket edges, pin to my T-shirt and stitched along the outer edges at the side and bottom. You could also not create a pocket and do a couple of embroideries using all of these designs and sew a patch across your top. I also just like a little pocket to keep my lipstick since my skirt didn't have pockets.



And done! All within one afternoon, and I'm ready for a Halloween day party. I have already tried on this skirt with a tight black turtle neck and statement necklace and it transformed into a fall plaid skirt to wear after Halloween.



Perhaps you want a little something more dramatic to wear out on Halloween, you still have time! Check out the following Halloween DIYs you still have time to put together before the 31st:


+ Wear all your white clothes, and make a Unicorn Headband.
+ Be naughty this year and transform into a little devil.
+ Go throw back this year and check out some costumes from the 2000s.
+ Be a pumpkin using freezer paper!
+ Get thrifty and combine clothes already in your closet to be someone else.
+ Disguise your face and whip up a Halloween mask.
+ Be your favorite TV/Movie character from Riverdale, Game of Thrones, or even Pennywise the Clown from IT!
You can also download our Halloween Costume Kit for tons of costume patterns and ideas.
Happy Halloween!
Meg