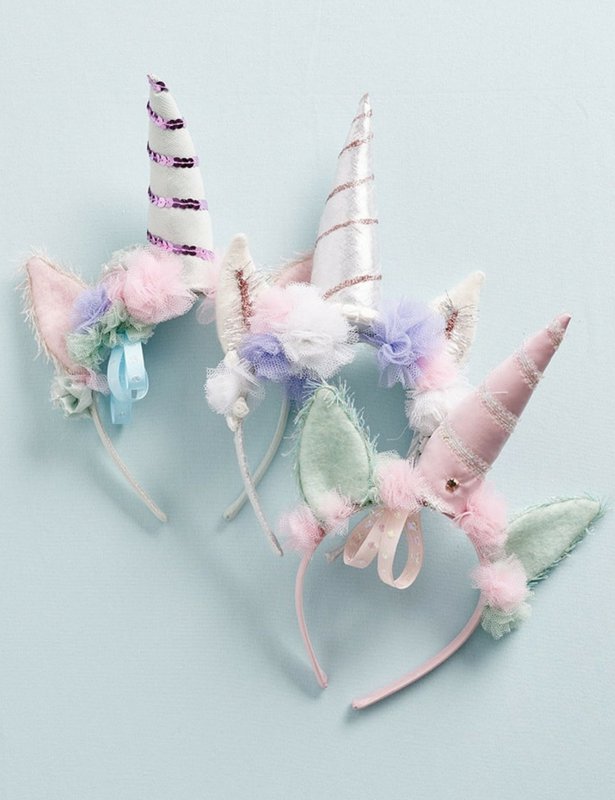 ShareThis
Don't want to go full out for Halloween? Simply make and wear this simple unicorn headband to make your Halloween a little more magical…

Here that what you'll need:
+ Felt
+ Tulle
+ Cotton
+ Trimmings
+ Fiberfill
+ Headband
+ Ribbons
+ Thread
+ Pins
+ Hand sewing needle
+ Scissors
+ Glue
+ Thimble
+ Cardboard
+ Pen
+ CD
+ Template (Download here for free)



Cut 4 layers of the ears in felt.



Sew each ear, right sides together and turn to the outside. Hand sew trim around the ear.



Cut bia strip (5 × 50 cm).



Stitch together at a narrow seam allowance along the long side at approx. 1.2 cm. Then trim to 2 mm.



Turn to the right side and thread the hair band through.



Cut edges and hand sew closed.



Cut out the horn piece with 1 cm seam allowances, sew together as pictured.



Flip to the right side and fill with filling wool. Trim the decorative bands by hand in spiral form around the horn.



Cut a circle (Ø 4 cm) from cardboard.



Circle a circle from fabric (Ø 7 cm) round, and cover cardboard with it. To make it easier you can sew a basting stitch around the outside of the circle to gather on the wrong side.



Then attach and hand sew to the bottom of the horn.



For the flowers use the CD as a stencil and cut in a double layer of tulle. Then cut as a spiral about 2 cm wide.



Hand stitch around the inner edge of the tulle.



Then pull hand sewing thread to gather in tulle and secure with more hand stitches.



On the head band glue the horn in the center and the ears on either side. Decorate further with ribbons, trim and tulle flowers!