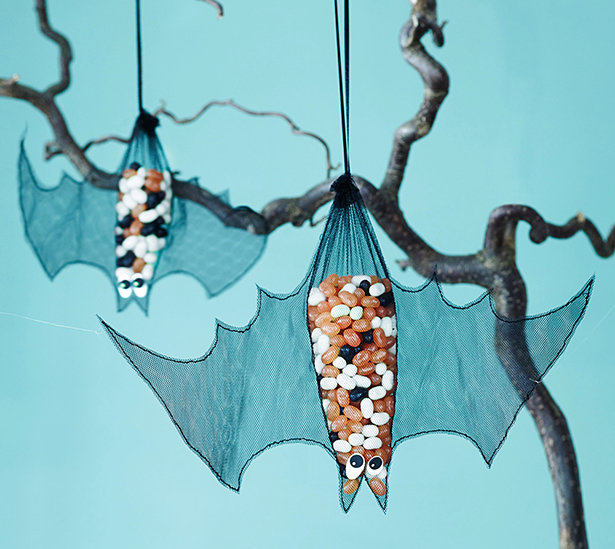 ShareThis
Don't be frightened! These bats are waiting quietly for Halloween to arrive. That's their big night, when they will happily share their sweet contents with you. Read to see how to make your own…
Materials:
- Bat template (download and print here)
- Black tulle
- Textile glue
- Bead marker
- Straight pins
- Black thread
- Eyes from crafting rubber
- Small safety pin
- Scissors
- Chalk pencil
- Leather band
Step 1- Fold the tulle in half. Pin the pattern to the double layer of fabric then cut out the fabric pieces.
Step 2- Edgestitch the two tulle pieces together, leaving the tail end open, as marked.
Step 3- On the open edge, fold the tulle edge under and stitch in place, thereby forming a casing. Pull the leather band into the casing, using the safety pin as a bodkin.
Step 4- Glue the crafting rubber eyes in place and draw pupils, with the bead marker. Fill the bat with sweet treats and hang from the leather band.
Alternative- Instead of tulle, the bats can of course also be sewn from opaque material. A deep black satin as has an especially nice effect – and hides which sweet surprise is inside!
Happy Halloween!