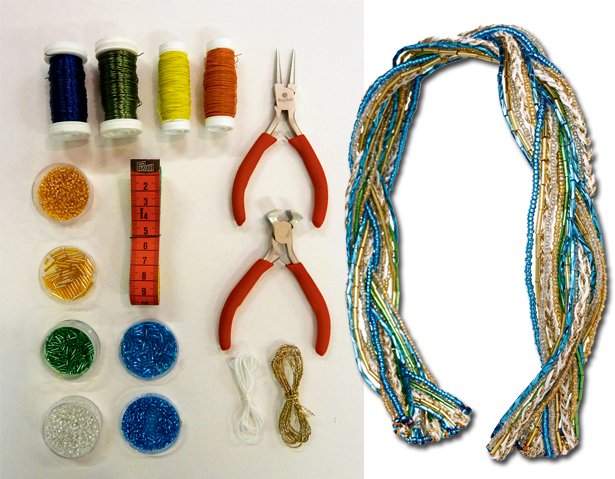 ShareThis
Hair bands not only make a bad hair day tolerable, but they also are the crowning glory to many outfits. Check out this fun and easy beaded and bow hair band DIY!
Sparkling beads are threaded on wire, then plaited with golden cord to make this gorgeous beaded headband. All you need is:
- Florist's wire in various colors, Ø 0.3 mm
- Seed beads and bugle beads in gold
- Clear colourless, turquoise, and green; golden cord, Ø 2 mm
- ­Jewelry pliers
- White embroidery floss
Step 1:
Cut 18 pieces of wire, each 50cm long. Thread the beads onto the wires in coordinating colors. Use the pliers to bend both ends of each piece of wire into a small loop.
Step 2:
Each unit of the plait consists of 6 beaded wires and 1 plait of embroidery thread. At each end, these are threaded onto an 8cm piece of wire, separated by one bead each.
Step 3:
Bend ends of each wire into a loop. Bend ends of the 3 thread plaits under, then bend sides of the hair band to the center at both ends.
Here is a lovely 50s' style bow head band! Such a pretty match for an evening dress. Louis Vuitton (left) styled their collection with these trendy hair accessories.
What you need:
Hair band, 1 cm (3/8 in) wide, 1.30 m (52 ins) of pre-folded satin bias tape, 2 cm (3/4 in) wide and ­sewing thread.
Instructions:
Measure length of hair band and add 2 cm (3/4 in). Cut a piece of satin bias tape to this length. Press this tape smooth and press ends of tape to wrong side, 1 cm (3/8 in) wide. Fold tape lengthwise, right side facing in. Stitch 1.2 cm (1/2 in) from fold edge. Turn tape right side out. Pull resulting tube over the hair band and sew ends closed. From remaining bias tape, cut 6 cm (2 1/2 in), for the bow "knot", and lay aside. Press remain­ing piece of bias tape smooth and cut into 2 equal ­pieces. Lay pieces together, right sides facing. Trim ends at angles. Stitch edges together, ­stitching 1 cm (3/8 in) from edge and leaving approx. 5 cm (2 ins) open on one long edge, for turning. Trim seam allow­ances diagonally across corners. Turn right side out and press. Sew opening closed. Lay piece in a bow. Lay bow on hair band and lay "knot" piece around centre of bow and hair band. Sew ends of "knot" piece to inside of hair band by hand.
Which is your favorite head band style?
Happy DIYing!