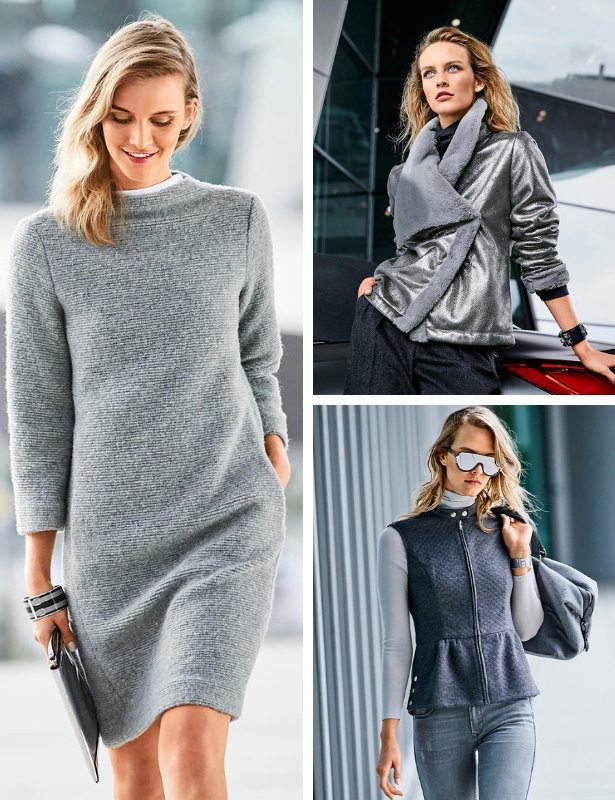 ShareThis
So much more than neutral, shades of grey are having a big moment. Get started with these business wear styles from the 01/2019 issue of BurdaStyle magazine enhanced by silver accents and luxury fabrics

A small twist with great effect: An asymmetric cut lends draping to this otherwise clear line cut shirt. The best news: It sews together so quickly that you could even make two in one afternoon.



An edgy biker fashion look that can work for the office. Sew these trousers in an imitation suede and accent them with the exposed zippers at the hem. The diagonal stitching at the knee and hems give a strong impression of real leather.



A winning look with the perfect fit that comes from clean lines, a lightly raised bateau neckline, seam pockets and 3/4-sleeves. The lack of extra seam lines makes this a great style to use for large print fabrics. A blouse or a turtleneck worn underneath make it cozy and warm.



This jacket looks complicated, though it is quite an easy sewing project. Its asymmetric look is the background for the on-trend imitation shearling with a metallic feature on the reverse. The front closes with snaps and the cut-on facing pieces are simply pressed toward the outside and topstitched in place.



This shirt dress with the full length button placket is neither too warm, nor too flimsy for a great look at the office in winter. The narrow raglan sleeves drape beautifully off of the shoulders.



A wrap coat combining comfort and glamour. This style sews together quickly and is shown here with a leopard print mohair sweater fabric. Accent rhinestones are sewn onto the shawl collar. A tying belt lets you adjust to have it wrap snugly or in a relaxed manner – making it possible to fit well over thick sweaters, too.



Cooler than a classic cardigan, but keeping the extra-comfy purpose: A relaxed sweater fabric jacket that is woven with a glittering Lurex is a wonderful counter balance to a narrow-fit shirt. The edges are finished with a braided trim.



This waistcoat with its minimal mandarin collar, side buttoning peplum and a full-length zipper is the perfect choice for staying warm without the need to wear a bulky pullover.



These pleated waist trousers include slant pockets and are sewn with a fantastically soft sweater knit – perfect for casual Fridays. Make the most of your styling and create elegant contrasts with quality pumps, a great-looking blouse, then finish the look with a blazer.



A modern classic. The narrow lapels of this comfortable blazer with the flap pockets, are stitched on – a stylish detail that also makes sure that the lines stay perfectly in place.


Sew up all these styles with the discounted pattern collection bundle here!