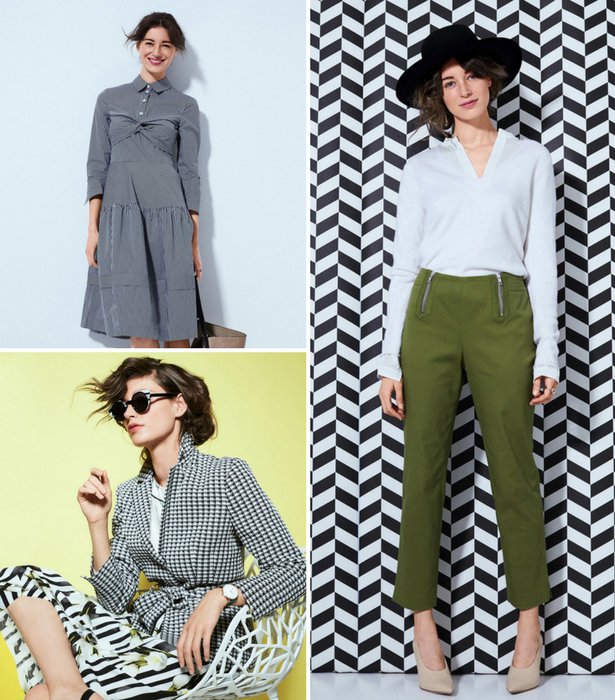 ShareThis
An abundance of flowers mixed with gingham prints in black, white and yellow give a modern makeover in these straight line and figure shaping styles. This collection is from the 03/2018 issue of BurdaStyle magazine.

An extra layer of bounce for this flowing viscose skirt results from the asymmetric panel attached at the waistline with an elastic gather. Pronounce the effect boldy by cutting the second layer in a solid color fabric, if you wish.



Narrow slits accent at the hems of the zipper detailed and narrow-fit trousers. The wide band wraps the waistline and lays along the backside without any bulk.



The gathered raglan sleeves are capped with wide cuffs that get trimmed with a bit of sparkle. The trim is also used for the attached tying band at the neckline for this draping design. Style tip: Wear it over a pair of pencil trousers in the fashion of a long blouse.



This blouse gets a feminine touch from the soft gathers along the waist seam and at the sleeve cuffs of this surplice neck top. The extra width in the back is drawn in with an inverted pleat.



True to the classic look with some fresh details. The front of the narrow trousers get an accent of two cool metal zippers – though the closure is on the side with an invisible zipper. The pointed topstitching detail along the zippers is repeated on the welt pockets in back, as well.



A lightning quick step towards a dream silhouette! The elongated narrow lapel of this hip-length blazer is a look that visually stretches the torso, while the belt and well-placed darts serve to beautifully define the waistline.



Rich layers of vichy checks cut in different directions are stunning. The skirt is wide with some sections of gathering and the bodice is accented with the casual twisted bustier that has the look of a bikini top. This style surpasses the traditional shirt dress with a playful makeover.



The floral viscose fabric punctuates the feminine vibe of this comfortable blouse with set-in sleeves in a classic cut.



The trouser suit can be a high fashion option, as demonstrated here by this fabulous version. The precisely tailored style of the bodice fits around the body like a second skin. Even so, the stretch of the material keeps it
ultra-comfortable.



The swinging A-line design of this dress with the exposed zip in front is perfect for the modern floral trend. Graphic panel seams in the bodice follow the figure.


Sew up all these graphic styles with the discounted pattern collection bundle here!