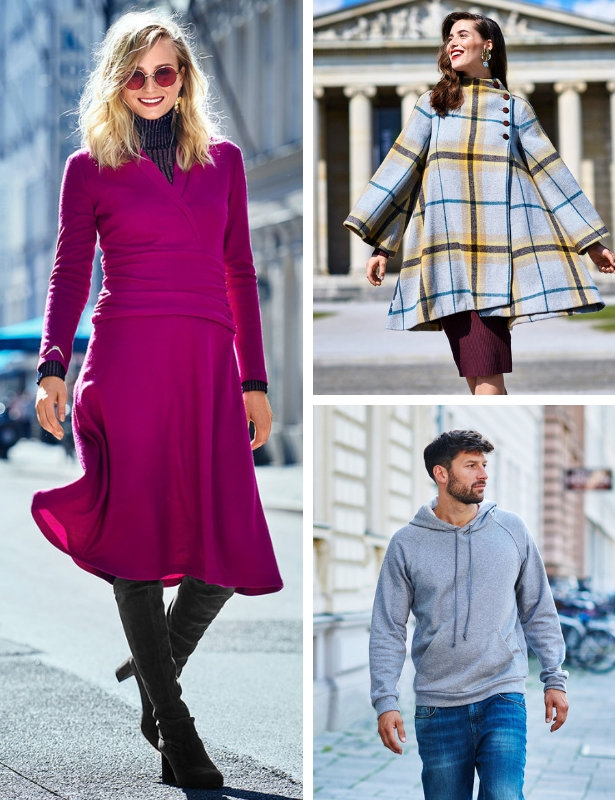 ShareThis
Cool fashion pieces in an oversized look and sexy styles that are also comfortable! These looks from the 12/2018 issue of BurdaStyle magazine in vibrant colors don't leave any room for the winter blues. There is also hoodie patterns for boys and men!

These slim fit trousers in a velvet floral print are sewn with an invisible zipper closure on the side – for a hugging fit along the hips. Sneakers or a pair of boots make this style absolutely a winter option.



This dress is one to have handy in the winter wardrobe. It has a wrap dress look and we have sewn it here in a pink wool jersey. Its best feature is the allrounder element as it works for the office and for party invitations – all the while showcasing a beautifully feminine silhouette. The trend of the season: a turtleneck worn underneath – sophisticated and keeps you warm, too.



This is as cosy as it gets! The lined teddy plush coat is sewn with a pure wool, straight-line sleeves and snaps in front to bring it together. This is every fashionista's season must-have. Add a Baker Boy hat, jeans and boots for street style look perfection. Pull it toward the figure to shape, if you wish, and wear a belt at the waist.



This shirt is both feminine and relaxed with 3/4 length sleeves and a tying band at the waist. A simple V-neckline draws attention to the decolleté. The extra coolness factor here: electric blue! Are you wanting a subdued look?Then, be perfectly styled in jeans and accessories in nude tones.



This style is one that will bridge the gap for you from now through spring as a season favorite. Five oversized leather buttons on the lapel keep it closed. The fabric is an on-trend vichy that is easy to work with.



Vichy is here to stay! This knee-length tartan skirt in a wrap look gets a sporty and chic vibe when paired with a leather jacket and cowboy booties. You could also opt for a sophisticated look by combining it with pumps and a blouse in a similar color shade.



Attention: if you love comfort, then you will love this hoodie! The grey sweatshirt with hood, ribbing and cording is a classic for the guys' wardrobe. A modern update includes a golden tiger print in gold. You simply iron it on!



Kids are all about sequins at the moment! This hoodie doesn't disappoint and includes three fabric colors in combination plus a sequin tiger appliqué that is sure to make it the favorite of the schoolyard.
Sew up ALL the good vibes with the discounted pattern collection bundle here!