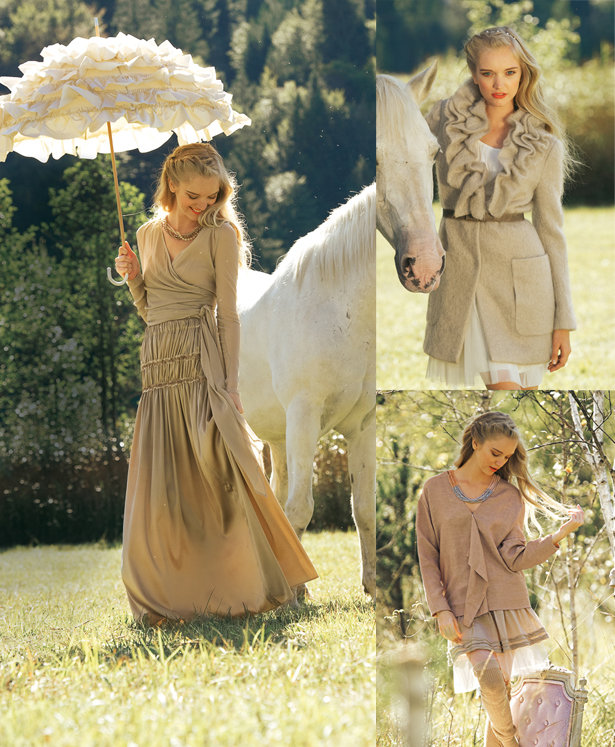 ShareThis
The Golden Hour is that beautiful time of day just as the sun sets, and this collection is just as pretty. Slip into comfy sweaters and flowy skirts in this dreamy collection from the January 2012 issue of Burda Style magazine.
Get a sweet, princess look with a lovely Romantic Maxi Skirt. This romantic design highlights your hourglass shape and has just a hint of medieval style, whether you pair it with a simple tee or a soft sweater.
Throw a cozy, swingy Square Cardigan over any dress or tank to make an easy fall look. This design is great for layering over other flowy pieces for a little boudoir style. Pour yourself a cup of tea and let your hair down in this fluffy sweater.
Switch up your standard blouse for this sweet and structured Tiered Tee. The tiered shape looks a little fancy, so you can wear it with pretty skirts or pencil pants. The shape is totally feminine, with tiny cap sleeves and a ruffled hem.
Instead of a boyish oversized sweater, why not try this Flutter Pullover The oversized shape is super comfy, but gets an extra dose of pretty from the fluttery front embellishment. This sweater looks great over slipdresses or shorts.
Cozy up in this cocoon like Cozy Sweater. Zippered front pockets add a sporty touch to this comfy design you'll want to curl up in.
A fancy Ruffle Neck Coat is just the thing to brighten up dreary days. You'll get lots of attention in this detailed coat. The slim shape makes the super ruffled neck stand out even more.
Bare one shoulder for a look that's half sweet and half sexy. The Ruched One Shoulder Dress has flattering ruching on the side and one flowing loose sleeve for an angelic effect. A great piece for all seasons!
Ballerinas are so classically beautiful, and you can steal a little of their style in this Wrap Sweater. The short design with long ties and back darts is totally feminine.
Take a stroll through a flower garden or dance the night away in this frothy Gathered Maxi Skirt. Lots of gathers give this skirt swingy movement that looks so pretty when you walk.
This is a great collection for enjoying the fall. Put together a soft and comfy outfit that still has plenty of feminine charm.
Happy sewing!