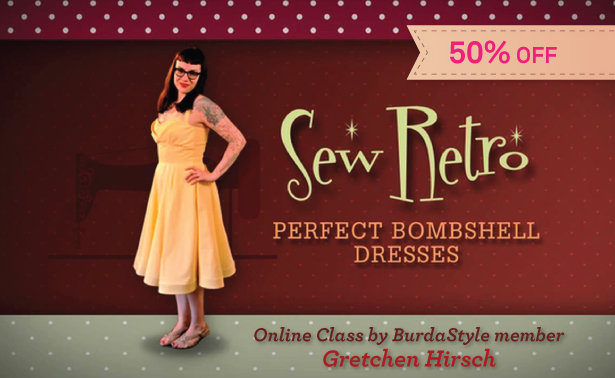 ShareThis
Hey, BurdaStyle members! I am so excited to be here guest blogging about my new online course, Sew Retro: Perfect Bombshell Dresses! The course was produced by Craftsy.com, and it features a fantastic BurdaStyle pattern.
Craftsy.com produces all sorts of online video courses that you can take at your leisure. When they approached me about teaching a class on making a retro garment with a downloadable pattern, I knew pretty much instantly which one I wanted to use. When first I saw this BurdaStyle pattern for a bustier dress with a draped sheath, it reminded me right away of the sexy sarong dresses that were popular in the 50s. The best-known designer of this style was Alfred Shaheen, and the gorgeous dresses are highly collectible today.
My dream was to make this a course with lots of intermediate to advanced skills, like a muslin fitting, using steel boning, underling, adding a waist stay, sculpting a padded bust, and more. It was ambitious, but we managed it in the end.
We filmed the course at The Sewing Studio in New York City. I teach there and the owner was kind enough to let us use the space, which is bright and spacious with an amazing view of the city. The crew was small, laid-back, and very fun and easy to work with.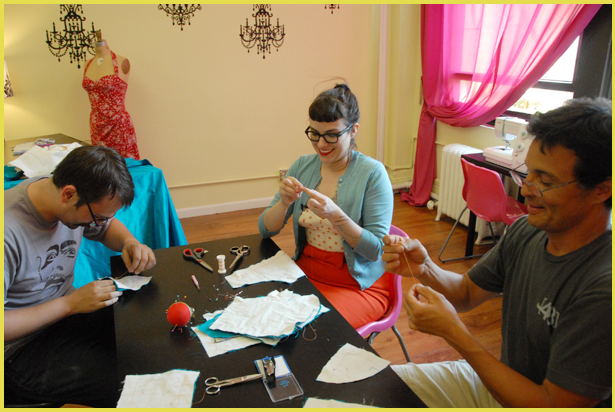 We filmed the course over three days, and it was a lot to pack in! I brought a bunch of my handmade dresses with me to wear during the shoot, and they ended up decorating the dress forms on the set. On the second day, the filmmaker, Joe, had the idea that he wanted to create an animated "paper doll" opening for each lesson in the class. This meant taking a ton of pictures of my dresses on the forms and then on me, and sending them to an animator who made them into the fun opening sequence that you can see in in the course preview.
After the filming, I went back to my life while the editors were getting down to work. They did an amazing job turning the footage into a real class—in less than a month! I'm incredibly proud of what we accomplished, and I hope it will help you make the dress of your dreams.
We are so excited about sharing this class with you that Craftsy is offering 50% off so you can get starting sewing up the bombshell dress of your dreams! For more information and to sign up for Sew Retro: Perfect Bombshell Dresses head over to Craftsy.com. Happy sewing!
~Gretchen
Gretchen Hirsch loves vintage fashion. She's the author of the popular blog Gertie's New Blog for Better Sewing and is writing a sewing book to be released in fall 2012 from STC Craft/Melanie Falick Books. She lives in Queens with her husband and two cats.