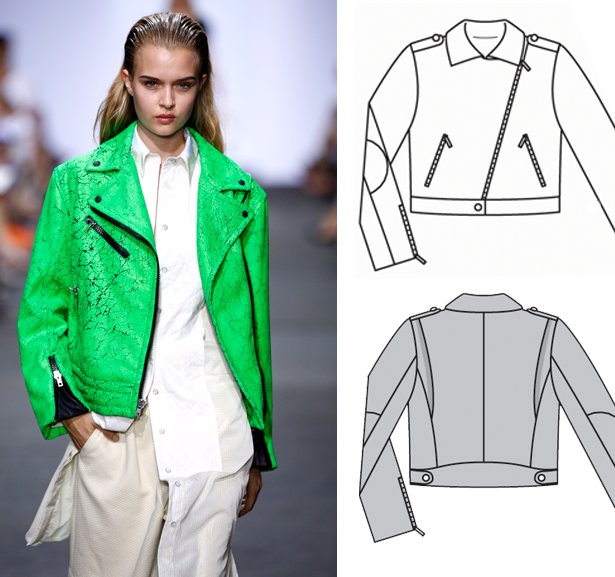 ShareThis
Last week, New York was buzzing with excitement over Fashion Week, where fashionistas flocked to the front row to see designers showcase their 2013 spring collections. We have recapped some trends that we spotted on the runway and paired them with our sewing patterns so you can get the look!
Designers Peter Som (left) and Jason Wu (right) showed cropped bustier tops.
To get this look, try sewing our Bustier Top or the Satin Bustier in leather or a floral print.
Louise Goldin (left) and Jen Kao (right) made dresses with panels in contrasting fabrics.
Try sewing our Color Block Dress or the Scuba Dress to achieve this paneled look.
Wide leg trousers were spotted at the Organic by John Patrick (left) and Kaelen (right) shows.
To get this look, try your hand at sewing our 70s Pants or the Sailor Style Pants .
Designers Tommy Hilfiger (left) and Alexandre Herchcovitch (right) showed shirt dresses.
Try sewing our Shirt Dress pattern for a casual look or the Shirt Waist Dress for a more sophisticated feel.
Bright motorcycle jackets were a hot trend this season as seen at the 3.1 Phillip Lim (left) and Rag & Bone (right) shows.
To get this edgy look, try making the Larissa jacket and the Asymmetric Jacket in a bright color.
We spotted peplums from designers Calvin Klein (left) and Kaelen (right).
Achieve this look by sewing our Peplum Top or the Peplum Blouse for a flouncy look.
Get your wardrobe up-to-date and start your sewing projects for next spring. Or, you can sew these patterns in winter fabrics so you can get the look now!
Happy Sewing!