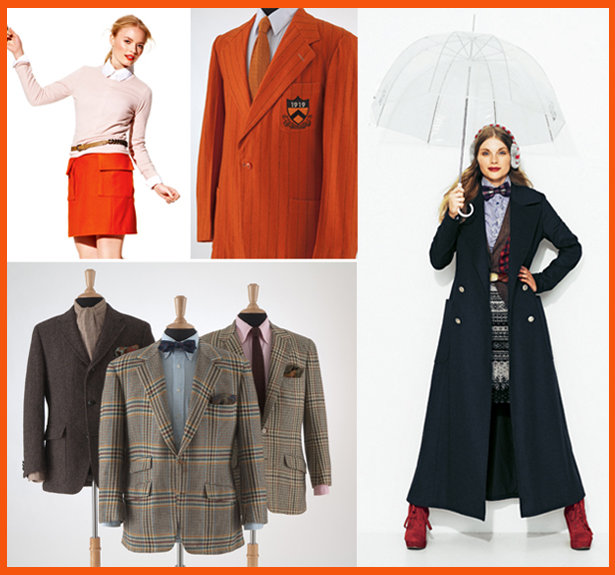 ShareThis
I recently attended a press preview of the Ivy Style exhibit at The Museum at the Fashion Institute of Technology (MFIT). The collection was cleverly curated as if you were on set at an Ivy League university campus (a grass-covered quad, a chemistry classroom, a dorm room) in a sea of Ralph Lauren, Jeffrey Banks, and Brooks Brothers classics.
The exhibit focuses heavily on American menswear from three main decades: the interwar years of the 1920s and 1930s, the post-war era to the end of the 1960s, and the preppy style revival from the 1980s to present. Here are some highlights from the collection along with some project and pattern inspirations to help you evoke your inner Chuck Bass, Carlton Banks, or favorite Heathers girl.

Bow Ties Everywhere: Make a classic bow tie modern using our David pattern. Mix prints or add a pop of color where it's least expected. Perfect for both ladies and gents.




Clockwise from left to right: 1. Member shannonashley's 1st Bow Tie EVER. 2. Member baobab's Bold Bow Tie. 3. Detail of navy blazer by J. Press, probably 1970s, as featured in the Ivy Style exhibit (Photo credit: Eileen Costa, Courtesy of The MFIT). 4. Member liveituplovely's Bow Tie For My Chambray Shirt.


Take Ivy: Though once a cutting-edge look worn by young men on the campuses of elite East Coast colleges, the Ivy League look has spread far beyond the rarified walls of Harvard, Yale, and Princeton to runways and everyday fashion.




Models present creations by U.S. designer Thom Browne during the men's 2011 spring-summer ready-to-wear collection show in Paris (Photo credit: PATRICK KOVARIK/AFP/Getty Images).


Head of the Class: Here is a selection of the many blazers on view at the exhibit (from left to right): 1. A black blazer with orange trim and 1923 Princeton University insignia by the Brooks Uniform Company. 2. An orange blazer with 1919 Princeton University insignia. 3. A blue blazer with 1916 Yale insignia. Loving these skinny knit ties? Make one using our Osman Tie pattern to go along with our classic Stinchcomb Jacket.




Photo credits: Eileen Costa, Courtesy of The MFIT.





Left: Chipp, madras jacket, circa 1970 (Photo credit: Eileen Costa, Courtesy of The MFIT). Right: BurdaStyle's Stinchcomb Jacket.


Boss Tweed: Here is a selection of sport coats on view at the exhibit (from left to right): 1. A Harris Tweed ready-made brown cashmere sport coat, dyed, spun, handwoven and finished in the Outer Herbrides of Scotland, 1975. 2. A Prince of Wales Glen plaid cashmere sport coat from W. Bill, London, tailored January 10, 1968. 3. A Prince of Wales Glen plaid cashmere sport coat from W. Bill, London, tailored March 6, 1972, all owned by Paul Press of J. Press.




Photo credit: Eileen Costa, Courtesy of The MFIT.


Room to Play: Ladies, lucky for you the rules of prep dress weren't quite as rigid for women. Here are some of my favorite Ivy-inspired sewing patterns that would make great timeless additions to any wardrobe.

Make the Jorinde Blazer in corduroy or wool. Try sewing on leather elbow patches while you're at it. Go for a double-breasted look with our Velvet Jacket, which would look great with a vest or sleeveless pullover underneath. Or, try our Herringbone Jacket styled with a pleated skirt for a modern prep school look.




Clockwise left to right: 1. Jorinde Blazer, 2. Herringbone Jacket, 3. Velvet Jacket.


Look on the Bright Side: Pair our Mini-Skirt with knee-highs, textured hose, or a pair of penny loafers. You can never go wrong with a classic Seersucker Dress Shirt or Shirt Dress for those warmer summer months. Switch it up and incorporate some bold colors into your work day.




Left to right: 1. Mini-Skirt, 2. Seersucker Dress Shirt.


Bundle Up: For colder months, challenge yourself with a more tailored sewing project. Make a classic trench in a cotton gabardine for those rainy days. Try sewing in wool to create a longer ankle-length coat, or (my favorite) a duffle coat with cute toggle buttons. Still conflicted about what to make? Check out our outerwear gallery featuring member creations for some inspiration.




Left to right: 1. Trench Coat, 2. Double-Breasted Long Wool Coat, 3. Duffle Coat.


Jamie Lau is BurdaStyle's Editorial and E-commerce Manager and the Co-Author and Lead Designer of the forthcoming book BurdaStyle Sewing Vintage Modern: Mastering Iconic Looks From the 1920s to 1980s. A self-taught seamstress, she now designs for her eponymous fashion label and teaches sewing courses in New York City, where she resides.