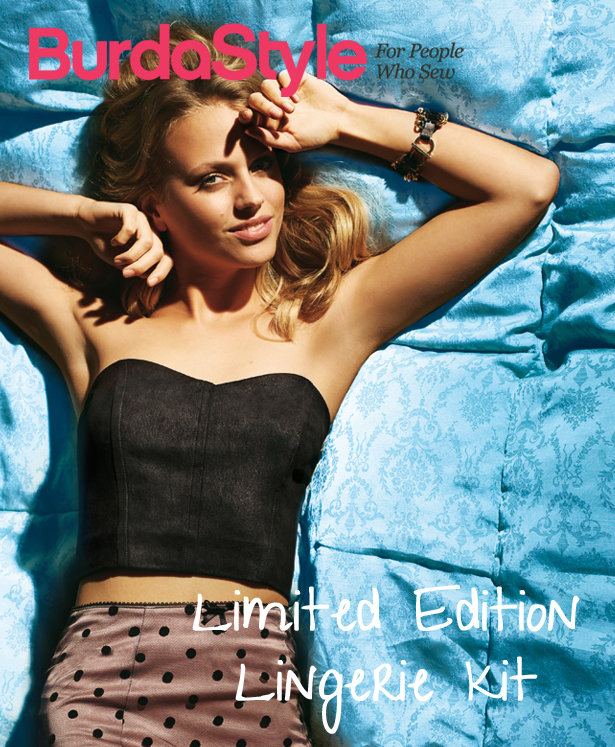 ShareThis
This month's limited edition kit is sweet and sexy, and you'll learn a few couture basics! Don't miss the Lingerie Kit.
January's limited edition kit features techniques and patterns to create your own customized lingerie wardrobe. You'll get detailed technique videos by Meg Healy explaining essential skills like sewing boning, sewing a pair of lace panties, and how to applique lace. Patterns are included for a peplum bustier, bra top, panties, and slip. Top it all off with a draft-it-yourself kimono with a fun web seminar.
Take a peek at what's inside…
Technique Video: How to Make Lace Panties

Video

Learn to sew a pair of lacey panties from start to finish, including lace edging around the leg openings.
RETAIL: $16.99




Technique Video: How to Sew Boning

Video

Master the basics of boning with this video tutorial. You'll love giving structure to bustiers, vintage dresses, and figure-flattering bodices.
RETAIL: $16.99




Technique Video: How to Applique Lace

Video

Add a couture touch to any garment with lace applique. This technique looks so soft and feminine, and it's easier than you think to make your appliques stretch with your fabric.
RETAIL: $16.99




Web Seminar: Sew a Kimono Jacket

PDF

No pattern is needed to sew this customizable jacket. See how to make one in satin for weekend mornings, sequins for evening, and for casual daytime wear.
RETAIL: $19.99

Sewing Pattern: Peplum Bustier

PDF

This flirty bustier top has a bubble hem peplum that accentuates your waist and gives a pretty hourglass silhouette.
RETAIL: $5.40

Sewing Pattern: Satin Panties and Bustier

PDF

Make these vintage-inspired panties in a snap with the included video tutorial. This delicate set will give you sexy confidence under any outfit. Or, go bold and wear the boned bustier top under a blazer!
RETAIL: $5.40

Sewing Pattern: Slip

PDF

A satin slip with lace insert is a wardrobe necessity. Lounge in style, or throw it under a flannel shirt and boots for a trendy daytime outfit.
RETAIL: $5.40
Once you own a few pieces of custom lingerie, you'll never want to go back. Handmade underthings elevate your outfits and will definitely put a little extra sass in your step.