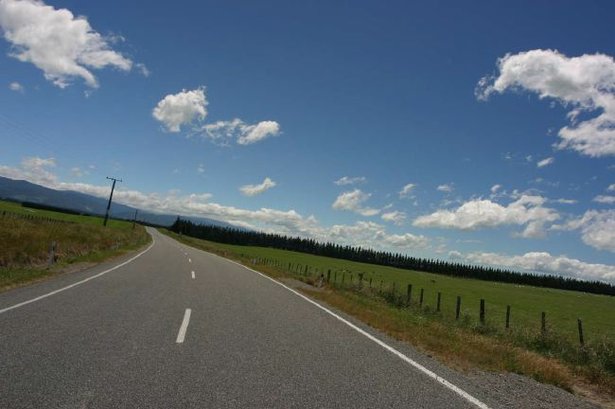 ShareThis
GET

A

MOVE

ON

The number one thing I love about New York: I don't have to drive anywhere.

The number one thing I miss, living in New York: Driving.

Not always; not every day. I certainly don't relish the idea of fighting the traffic around here, braking my way crosstown then circling the block 17 or 18 times before I find a parking space, halfway back the way I came. I've rented cars in New York; I know the score. But then a certain heat comes whispering through the air, not warmth yet, but its harbinger, and the familiar, pedal-to-the-metal urge comes over me. Spring fever. Wanderlust. The need for speed, after months of cooped-up winter. It's so American, that feeling, the burn to get up and go, head West, put some miles between you and your history.

As the saying goes, objects in the rearview mirror may be closer than they appear. Looking back, I see how often I've used a car as an escape hatch, as though the road itself possessed the power to cleanse me of my troubles. My boyfriend and I were in a rut, squabbling; this was college, and we were unavoidable to each other. We packed up on a whim and took off for the coast, and after two good days in the briny air, returned home to the same rut, the same ping pong of little digs and unsatisfiable complaints, a game no one ever won. Years later, in New York: I got sick. I won't go into it except to say that my days became a litany of doctors and tests, strange machines that hummed and shuddered in the neon silence of the ward. On the spur of the moment – always the best way, I think – a friend located a spare car and we rode up to the Catskills singing along to Liz Phair and stopping only for berries at a roadside stand. We went hiking, too, but it's the driving I remember, and the moment on the highway when we looked at each other in recognition of the thought we'd both had, the same thought at the very same instant: Why not just keep going?

There's always that thought at least once, while I'm driving. I see the exit for my destination just ahead and some anarchic voice in my head whispers, drive on. I went to L.A., and I heard the voice again, speeding up I-5 on my way to San Francisco for a side trip to my cousin's. The farmland of the Central Valley leveled out, plain and sky broke into endless horizon, and I realized what they mean when they call the West "big sky country." My heart quickened. I felt very small. An element among elements. An 18-wheeler roared past me and onto 580, and if I followed, forking left, toward the Bay, there was the city, commotion, places I knew and people who knew me. Or I could keep straight, gun my engine into that big sky, and be reborn.

I went to San Francisco. There's nothing I'm trying to escape right now, except, maybe in certain dark hours of the early morning, myself. But there was something liberating in the idea that if I wanted to keep going, I could. The road does possess a cleansing power, in that way: It's neutral, it goes on and on, and you get to choose whether to get off, or head back, or see how you feel as the next exit approaches. No wonder Americans love to drive; driving is the most visceral way we exercise our freedom. Taxes are due. It seems like a good time to remember that it's nice to be free.

This week, BurdaStyle goes on the road.