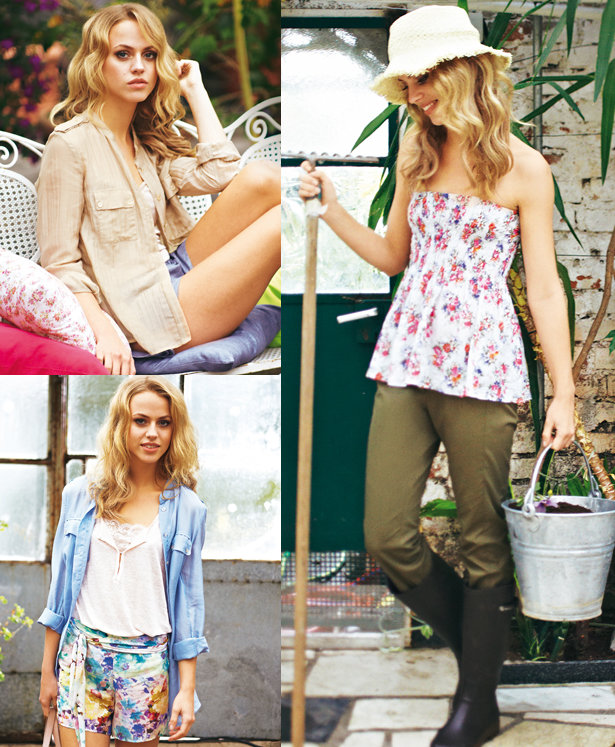 ShareThis
Chambray blouses, casual dresses, and a big garden tote are just a few of the staples in this huge collection. These designs are from the March 2012 issue of Burda Style magazine.
A Silk Motorcycle Jacket for girlie girls. This design has an asymmetrical zippered front and pockets, stand up collar, and shoulder epaulettes for toughness. It's light for spring and works with casual outfits or dresses.
The ultimate flattering boyfriend shirt. This blouse has an oversized masculine shape, made for women in wild silk with a cool shoulder yoke that forms flaps for the breast pockets.
A finely knit tank gets a little extra detail from the bow at the neckline. It's so light and airy, you'll never want to take it off!
This skirt is made from a rectangle, so it's super easy to sew. It's knotted at the waist for a sexy detail.
Easy shorts with an elastic waistband are grown up in wild silk. Slip them on under a pretty blouse or tank for a summer outfit in a flash.
The essential top for weekends, made of lightweight batiste with patch pockets, shoulder epaulettes, and a narrow collar. It looks so springy in white or pastels.

The Gathered Tunic Dress is gathered above the bust for a swingy, effortless silhouette. You'll love the loose shape in hot weather with sandals.

Stretch your knitting skills with a Lace Sweater embellished with ribbon scraps. The open work texture makes a light spring piece.
The Blossom Shorts are super easy to sew with a great fit. No buttons or zippers, just an elastic waistband. The sash has a fun spring vibe, but simplify them even further by skipping the tie-belt piece.
Suit up for gardening with this bright Gardening Apron. It's a quick sew project, so you can whip one up for yourself or for a gift. The metal belt buckle has a fun utilitarian feel. It also works as a tool belt.
The Aviator Blouse is stylish with a military/aviator look to it! It has a standing collar, flap pockets and shoulder tab details. Our version is made in sheer cotton batiste.
This Garden Tote holds everything! Keep your tools organized with plenty of outside pockets. You'll use it all summer long at the beach or in the garden. You could also sew this bag up in pastels for a diaper bag or neutrals for work.
Layer this Long Cardigan over all those skimpy sundresses and tanks when you step into the air conditioning. The flowy length and empire sash are so feminine.
You don't have to wait for warm weather to go out in the garden. Just throw on this cozy Quilted Vest! It has lots of pockets for fishing or gardening tools. A bright color and floral lining make it spring ready.

Layer a boho outfit with this tank Jersey Dress and as many accessories as you want. It's a versatile essential you'll wear all summer.
So floral and feminine! A shirred Gathered Tube Top hones your skills and makes a top you'll wear all summer. Pair it with shorts, jeans, a skirt, a bikini, or the detailed Princess Seam Skinny Pants
Princess seams and details at the thigh make a pair of skinny pants so flattering and special. Stretch gabardine is crisp and shows off the cool lines.
These designs are casual enough to wear in the garden, but you'll want to show them off out with your friends! Lightweight essentials you can wear anywhere… it's what spring style is all about!
Happy sewing!