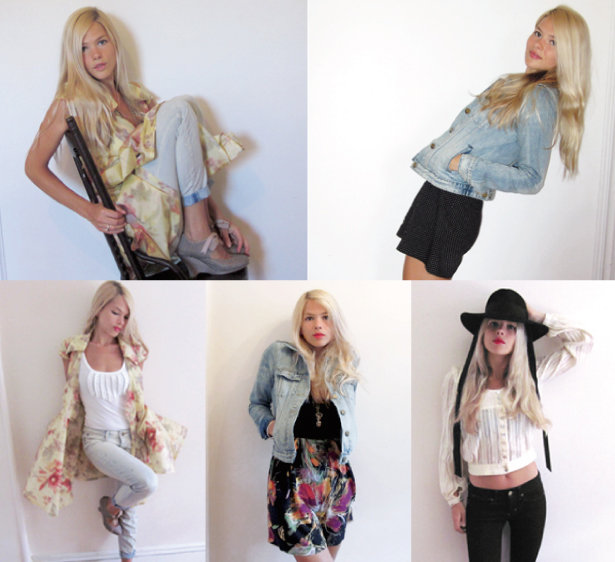 ShareThis
My aunt once told me that in the late 60s she would soak her new blue jeans in the ocean for days, so as to soften them up and take the "newness" away. There's something to say for vintage washes or worn-in clothing; they appear to have a soul or personality. You feel instantly laid back or easy going when you're wrapped up in an old classic piece. When I tried on a pair of GAP 1969 Special Wash Always Skinny jeans they felt as if they could have been my Aunt's jeans from decades past—super soft, perfectly frayed and gently worn-in. A prevalent trend in New York City amongst my generation is to dress in an effortlessly chic manner. Girls will throw their boyfriend's beat up denim shirt over leggings and expensive shoes and come off as blasé about their look, or wear a playful silk georgette dress over rolled up acid wash jeans and heels.
Since the age of 10 I've sought after the perfect denim jacket. My first, a hand-me-down over-sized white denim boxy cut from the Gap circa 1990, was a staple throughout my teens. By the time my sister gave it to me the frayed cuffs and imperfections were the epitome of cool. This jacket had been places, it told a story. Today, for me, the perfect denim piece is all about the wash. Advances in denim treatment technology have led to beautiful, beat-up, vintage looking washes that manifest a lived-in feel as soon as you put the garment on. My denim jacket feels as if I've owned it for years, it has an air of mystery, like my first denim jacket had, yet this one has a cool, modern fit.
There is one more trend that is not going away any time soon in New York: leggings. I spend most of my days in dresses or vintage looking blouses, and if it's cool outside, these are always worn over leggings. The latest incarnation of leggings are "jeggings", or legging jeans. Super flattering and leg lengthening, jean leggings are the most recent addition to my wardrobe. A big step-up from the not-so-flattering-unless-you're-a-stick cotton leggings, jean leggings fit like leggings but offer much more structure which cater to the natural contours of your body; with functional pockets, gorgeous, slimming dark washes and the perfect stretch which wraps around you snugly yet comfortably.
Check out how I incorporated these trends into my five looks over on the GAP Style Stream and keep your eyes peeled for upcoming style infusions from our members.