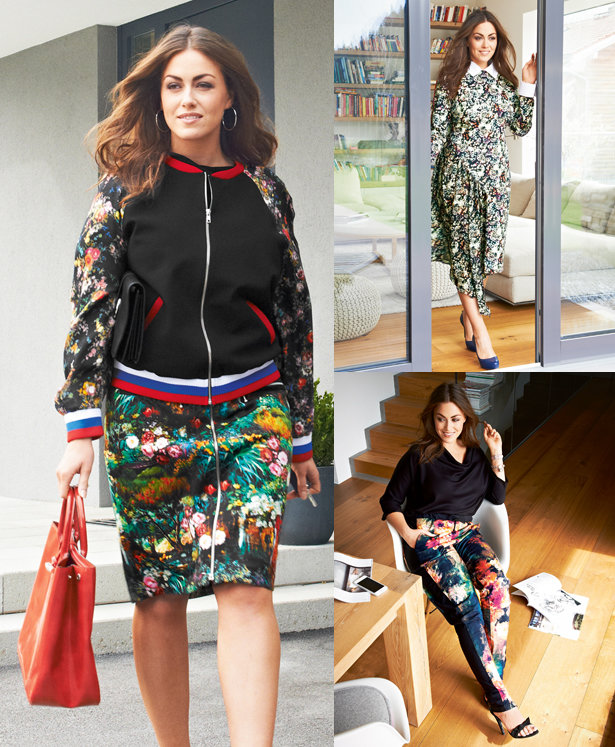 ShareThis
The latest plus size collection is full of beautiful florals. Wear these dresses, tops, and skirts to your next art opening or afternoon at the museum. These designs are from the August 2014 issue of Burda Style magazine.
Get volume without bulk in this Draped Skirt made from lightweight chiffon. It's layered over jersey for a dreamy effect that's easy to wear.
This sporty Blouson Jacket is made of high tech athletic fabric for an authentic look, dressed up with a pointed collar and blousy silhouette. Floral fabric makes it more girly, or just use your favorite team colors.
A zipper makes this lazy day Jersey Top edgy and cute. It's a layering essential with a crew neck and long cuffed sleeves.
Silk fabric is gathered at one shoulder for a sweeping Cowl Neck Blouse that's slightly asymmetrical. Pair this beautiful basic with the Drawstring Pants. A satin panel on each leg dresses up easy jersey trousers so you can wear them out and about.
Close fitting to the knee, the Mermaid Dress hugs your curves and flatters an hourglass silhouette with a flounce at the bottom. The sleeves are sheer for contrast against floral satin.
Zip up collegiate style in this Track Jacket with contrast sleeves, a ribbed waistband, and contrast trim at the neckline pockets. There are so many options for customization.
Cuddle up in an extra long raglan Sweatshirt in quilted knit fabric or sweat shirting. It's accented with an exposed zipper at one shoulder.
Mix high and low with Jersey Pants in a dreamy floral fabric. These trousers can be dressed up or down… they're perfect for days when you don't know if shopping may lead to dinner and drinks.
A floral Pencil Skirt gets a lot edgier with a full exposed zip at the front. This stretch jersey skirt is embellished with more decorative zips at the front and fully lined.
An asymmetrical gather creates a pretty Cowl Neck Shirt. It's a lovely alternative to basic tees.
Stretch satin creates a shapely silhouette in this knee length Dress. The back is form fitting, but the front has an asymmetrical godet for movement. This dress also has removable cuffs and collar.
This collection is a fresh mix of styles, from sporty to flirty. Florals give any look a splash of femininity, so break out the blooms whenever you need a little pick me up for your wardrobe.
Happy sewing!