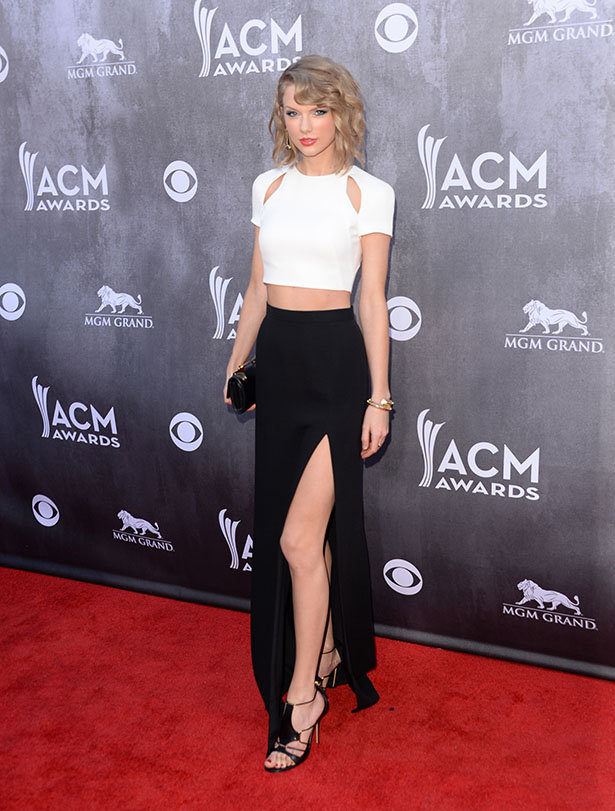 ShareThis
Taylor swift caused quite a stir on the red carpet last weekend with her sophisticated black and white ensemble. Here's how you get can her look. (Sky high slit optional of course!)
Photo above: Getty Images
Taylors white top is basically just a cropped raglan tee. The subtle, yet sultry collarbone cutouts are what really makes this outfit memorable. This design is perfect for those of you who love the cutout trend, but exposed sides or middles aren't your style.
This raglan-style Cap Sleeve Top has a sleek fit like Taylor's. You can easily substitute a loose fitting raglan top or tunic if you prefer.

Making the cutout is simple:
1.Determine how long and wide you want your cut-out to be. (Taylors appears to begin 1 ½"-2" from the neckline, 5"-6" in length and about 2" wide.)
2.Draw one curve of the eye-shaped opening on either the sleeve or shirt front. Trace and mirror the curve to its adjoining pattern piece. Make sure both pattern pieces line up exactly before cutting.
3.Cut away the inner curve pieces and add seam allowance. Mark the exact points where the cutout starts and ends.
4.When sewing, stop precisely where marked and back-stitch securely. Begin sewing again at the opposite point and finish the seam.
5.Press your shoulder seams open. At the same time press the seam allowance along your curve inward. Depending on the depth of your curve as well as your fabric, you may need to clip the seam allowance for it to lay perfectly flat.
6.Topstitch neatly around the cutout.
You can shorten the hem to make a crop top like Taylor's, or leave it longer. Make the top in white, and pair it with a stylish black skirt to create a truly eye-catching outfit!
What do you think of Ms. Swift's glam look?