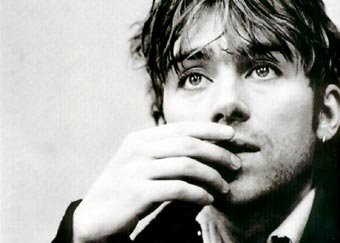 ShareThis
I once spent an hour alone in a bedroom with Damon Albarn. That's not as racy as it soundsit was a motel in a gray suburb of London near the BBC studios, and I was interviewing him about the Blur album 13 while his publicist waited just outside the door. Damon himself was in a bit of a state, curled up on the bed with his fists clenched, rehashing the bad breakup that had inspired the record. I felt like his therapist. I felt like a therapist who'd been in love with her patient from afar and who now found herself alone with him, letting the tape run on the conversation while her mind played a loop of I am alone in a bedroom with Damon Albarn, I am alone in a bedroom with Damon Albarn, I am alone in a bedroom with Damon Albarn. I'd been in proximity to him before, seen him making his way down Portobello with his parka hood over his head, then at a party for some band, then downing pints with a few friends after a Chelsea match, but I'd never had the chance to observe that he was slighter and older than I'd pictured him, and watchful, and that he had a mole over one brow. He didn't like making eye contact much, but all of a sudden, he did. Damon sat up on the bed, leaned toward me, and took my tape recorder in his hands. "I'm shutting this off," he said.
Dear Reader, I'll be frank: He'd made himself vulnerable to me, the 22 year-old American journo who'd found a way of getting people to talk by pretending to be incompetent at it, and though I was principled about these things in general I wanted, badly, to take advantage of his vulnerability. Damon turned off the tape and I pulled my chair close to the bed and for the first time in that quiet room, we locked eyes. He told me then that the girlfriend no one knew he had was pregnant. He'd just found out, and it felt absurd to him to be playing the part of the damaged boy on the album. I seemed nice, so he told me. Then he turned the tape on again, and we resumed our performance. Maybe that confession was part of the show be intimate, off the record; get the girl on your side. It occurred to me at the time. But the moment felt true, and the ploy worked regardless. I can't review Damon Albarn's music anymore Blur, Gorillaz, new band The Good, The Bad & The Queen because all of it brings me back to the strange ritual of that interview, the two of us fakers locked in a room with our private designs, making scripted conversation and connecting, for a minute only, to acknowledge the sham. I happen to love The Good, The Bad & The Queen. But you shouldn't take my word for it.
Playlist's Best of the Rest, London Edition:
1. Withnail & I. A description of its plot can't do justice to Withnail & I. Suffice to say that this film about two actors taking a nutty trip to the country is about what you'd get by putting Hamlet, "I Am The Walrus" and all of Monty Python into a blender. U.K. kids know the dialogue by heart.
2. The NME. The nation that gave us the Beatles, Bowie and the Stones has an altogether appropriate case of music fever. Rock rag NME takes the scene's temperature weekly, and always finds it scorching hot.
3. Slang. Cliché has it that the United Kingdom and the United States are two countries separated by a common language. Website www.peevish.co.uk/slang offers a handy guide for translating the native patois. Know your gits from your skints before you go.