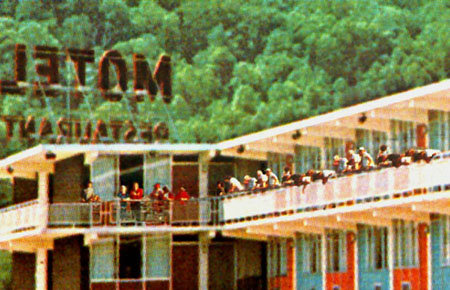 ShareThis
This week, BurdaStyle goes on the road.
PLAYLIST
MARK
MANN
Several years before my family moved to Orlando, we took a trip to Disney World. I don't remember much about this trip other than the ride to the park, the six hours or so from Miami. I was nervous, impatient and exhilarated; I had been overtaken by the sense that I was about to meet my destiny. What that destiny was, I had no clue. But I was tingled with foreboding.
Here's the thing about Disney World: It is a park whose theme is disappointment. Everything is a mirage. Cobbled streets and scaled-down storefronts recreate a storybook past, and every time you turn the corner to a new promise that you've entered the fairy tale, at last, the fairy tale turns out to be a souvenir shop, a hamburger joint, a place selling Disney-themed SPF and bottled water. Rides entice with promises of space travel, dangerous missions, a trip down the rabbit hole, and even the lines are liars, winding this way and that way and always making it seem like you're three clicks from the front when there are still a hundred people ahead of you. Snow White is not Snow White, she's just a teenager in a wig. She's pretending, and the only way to make Disney World work is to pretend right along.
Apparently, I couldn't. According to my mother, I hit my limit when we arrived at Cinderella's castle. I'd visited an actual castle before that, another family adventure, and maybe I was expecting the same tour of gilded halls and bedrooms draped in silk and tapestry. Cinderella's castle had something to do with my destiny, I know that much, and all morning long its silhouette had loomed ahead, just as it did on the Disney brochure. We got there at lunchtime, and immediately it was all wrong: No moat, no gate, no sentries; you could walk right through. Really: Cinderella's castle is built over a pedestrian tunnel. There is literally a void where the castle should be. On one side of the tunnel there are double doors opening onto a white tablecloth restaurant, and on the other side there's a souvenir shop, a hamburger joint, and a place selling Disney-themed SPF and bottled water. I guess my mom saw the crestfallen look on my face, and so she asked the restaurant's maitre d' if they had room for three; "booked," he replied airily, and as she tells it, that's when I took over. "How do we go upstairs?" I asked him. I do recall that he laughed. I don't recall him saying there was no upstairs, or my retorting that there had to be an upstairs, because there were stairs at the back of his restaurant, or his replying that they used the second floor for storage. I also do not remember kicking him in the shins. But I did.
A few years later, we moved to Orlando. I'd go back to Disney World now and then, when family came to town, or for birthday parties or class trips. You can't live in Orlando and escape Disney; you really can't. But I always went back a cynic. My last trip to Disney I took in college, with a couple friends who hadn't been since they were kids. The place felt less like a hoax to me than it had when I was younger; I suppose I finally saw Disney World for what it was, an amusement park, rather than for what it was not. And for the most part, the kids were wild-eyed and overheated, their parents exhausted, sunburnt, and content in the knowledge that this trip to Disney was a check in the pros column for them, one parental obligation inarguably fulfilled. In short, everyone seemed psyched. But I'd catch a quiet moment now and then, doubt flickering over some mother or other's face, a kid exiting the Haunted House with an uncertain sense of dismay, the father setting everyone off quick for the next ride, so that disappointment couldn't catch up. Years of living in Orlando had made such moments familiar to me; you could tell the tourists by their sense of betrayal, all of them happier to believe the city was a let down than wonder if it was them who'd failed the experience.
None of this is specific to Disney. I was reminded of this fact when I first encountered Mark Mann's series of photographs based on old "Wish You Were Here"-type postcards. Hotel swimming pools, roadside diners, scenic views; the shots are instantly familiar, drawing from a pool of collective nostalgia for the family road trip. At least since Vacation, a favorite trope of the movies has been to play up the foibles of the road – the backseat bickering, the kooky gas-food-lodging towns, the crappy motels and the imaginary glamour of the destination. All of these films, most recently Little Miss Sunshine, resolve on an optimistic note, arguing that the mishaps and small miseries of the family road trip ultimately serve the purpose, a little family bonding. But it's only in Mann's digitally altered postcards that I've met the tone of the Orlando tourists, their "Are we there yet?" approach to happiness. Fun is always over there, on the horizon, or it's the thing that just happened while no one was paying attention. Mann's work is profoundly beautiful and profoundly lonely, a meditation on the memory of expectation. A show of Mann's Last Resort series opens at L.A.'s Taylor de Cordoba gallery on April 21st, and you can check out more of his work at his website,
It's a pilgrimage worth making.
Playlist's best of the rest, Road Trip edition:
1. Cross-Country. My great untaken vacation is a trip across the country. I've driven all the way up and down the Eastern seaboard, gone from Massachusetts to Michigan via Niagara Falls, and sped from Chicago to Daytona without sleeping, because the whole last half of the trip I was being chased by a tornado. But I've never done a drive East to West, and therefore I feel less than fully American. Robert Sullivan's engaging book, part history lesson and part family memoir, made me understand why cross-country travel seems like a birthright. It also made me want to get the car and start driving.
2. "Drive." I haven't yet seen FOX's new series, so all I can comment on is its premise, a mysterious race across the country, ending who knows where, and with who knows what waiting at the finish line. I probably won't watch the show, because I just can't fit another "Lost" or "24" onto my viewing schedule; I've already given up on both of those, in fact, except on DVD. But I'm intrigued by "Drive." Its creepy plot seems to have been lifted from the movie Series 7, which was about civilians drafted into a murderous game show against their will, and which gave me the willies. Kill or be killed becomes drive or be driven off, and though the whole thing seems pretty misanthropic, I'm faintly reassured by the fact that our television morals remain so intact that "Drive" has come to the air as a work of fiction, rather than the reality show it might easily have been..
3. The Puffy Chair. Little Miss Sunshine may have gotten the glory, but I have to give a shout-out to my favorite road movie of 2006, The Puffy Chair. Full disclosure: I know the filmmakers, Mark and Jay Duplass, and if you wait until the very end of the "special thanks" scroll at the end of the credits, you'll even see my name. But I didn't know the Duplass Brothers the first time I saw the film, at a festival, and I only went out of my way to meet them because I loved The Puffy Chair so much. The plot is not much to speak of – Mark, who co-produced the film and wrote the script, plays a washed-up indie rocker who buys a puffy chair off eBay as a birthday present for his dad, and then road trips south to pick up the chair, and deliver it. That's the plot, anyway, but it's not what the movie is about; it's about commitment-phobia, and late 20s ennui, and breaking up with someone you love for reasons that are both obscure and unavoidable. In other words, The Puffy Chair is a movie about a guy I know, indeed, about lots of guys I know. Plus, it's funny. And available on DVD.