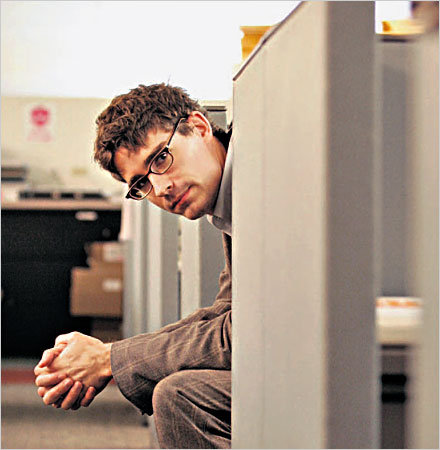 ShareThis
This week, BurdaStyle gets literate.

PLAYLIST

THEN

WE

CAME

TO

THE

END

I make it a rule not to read "it" books. You know the kind of books I mean: The Corrections, Everything is Illuminated, that Marisha Pessl book, "Calamity Physics" or whatever. I'm not saying these books are bad. I'm not saying they're good. I'm saying I haven't read them. And yet: Due to the inundation of book reviews, author interviews and gossipy items about new townhouses and film options, and also due to the everywhere, empty, cocktail party jowling about these novels, I could probably give you a pretty accurate plot synopsis of each of them. If absolutely necessary, I could it while drunk, as part of some pretentiously malfeasant cop's roadside sobriety test. "Walk the line," I imagine him saying, "and tell me what happens in Ecuador." "In Indecision?" I reply, slurring a little on the double "in." "Of course in Indecision!" he answers, giving me a tap with his nightstick. Then he twirls his mustache.

There probably aren't any cops pulling people over and asking them about literature. Consequently, all the information about these books that I've stowed away despite myself, that data is just sitting there, inert, taking up space that would be better leased by memories of my grandparents or, for that matter, details from fiction I have in fact read. When I do get around to reading The Corrections, say, or Motherless Brooklyn, or The Amazing Adventures of Kavalier & Clay, I might like them, I might even love them, I might go so far as to invest in the whole Franzen or Lethem or Chabon catalogue. It's just that I don't like being told how to feel about a book before I've gotten a chance to decide how I feel for myself. I'd rather come around to books on my own time.

Which is why I'm not going to be reading Then We Came To The End. The heat is on Joshua Ferris's novel in a big way, and before it was even published, I knew Then We Came To The End was set in Chicago, told in the rarely-used second person voice, and concerned layoff attrition in the dotcom era. I also knew that several reviewers had hailed this debut fiction as the best thing since, well, the last best thing. One day, years from now, maybe I'll agree.

Playlist's best of the rest, Book Club edition:

1. Peruse: Shop America: Mid-Century Storefront Design. Most of my extended family lives in Detroit, and one of my favorite pastimes when I visit is driving around the shabbier, left-behind precincts of town. Certain streets are like a time capsule of the '50s and early '60s, the era when the Motor City was in its heyday. Likewise, Taschen's Shop America shines a light onto a more optimistic, more elegant era of retail design. It's worth a look.

2. Read: Mindless Eating: Why We Eat More Than We Think. Though I picked up Brian Wansink's book because I hoped it would teach me to snack less, Mindless Eating is a much more intriguing read than your average diet guide. Based on a few sly behavioral experiments, Wansink's book is really about is the way we think about food, or, as a matter of fact, the ways we don't think about food, and eat instead.

3. Re-Read: Bridge To Terabithia. I hadn't thought about Bridge To Terabithia in years, when the trailer for the recent film adaptation reminded me how much I'd loved the novel as a kid. If you loved it, too, or even if you've never read Katharine Paterson's brief, heartbreaking novel, Bridge To Terabithia more than stands up to grown-up inspection.