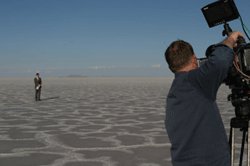 ShareThis
This week, BurdaStyle takes on life, love and mankind.
PLAYLIST
THIS
AMERICAN
LIFE
I have never met Ira Glass, but I feel like I know him. For years now, I've listened to his show on NPR, This American Life, and re-listened to favorites online, and caught up on the shows I've missed, and after all this time, I've come to feel like we've got something special, me and Ira. Radio, as he himself has said, is an intimate medium: It's like that person in the broadcast booth, he's talking just to you, you alone. But it's more than that. Ira knows me. He can anticipate the writers I like, the kinds of stories I'm eager to hear, and the thoughts and doubts I'm going to have about them. When he does an interview, and he laughs, I'm laughing too; Ira is also the master of the pregnant pause, and many times, in those heartbeats of silence on the air, I've caught myself holding my own breath along with him. It's gotten to the point where I can no longer tell whether my tastes are my own, my reactions my own, my point of view my own, or if they've all been subsumed into Ira's.
I'm putting This American Life on the Playlist this week for a topical reason – the debut of the show's television self, the pilot of which I've seen and enjoyed. Not loved, necessarily, the way I love the radio show, but TV is a unique beast and I believe the Showtime edition of TAL will find itself, and settle into its own, differently intimate rhythm. But I'm also giving a shout-out to Ira this week because, as I've been thinking about love, and life, and mankind in general, it occurred to me that This American Life has done much to augment my appreciation of the world's small, good things. The show itself is a small, good thing, and sometimes, often, what moves me about a story on This American Life is the way it is told. Just as frequently, it's the story that stops me in my tracks, tales the producers seem to have dug out of the cracks in the cultural pavement. For an hour each week, and now an extra half hour on TV, I get to live in Ira's world. And Ira's world is an interesting place to be.
Playlist's best of the rest, Men of Endless Summer edition:
1. More Gore.
The presidential race has gotten off to an absurdly early start, and even though we've got a good 20 months to go before the 2008 election, and I haven't even settled on a candidate, I'm already ready for it to be over. Don't take this as an endorsement, but I really want Al Gore to throw his hat in the ring. In the years since the contested 2000 election, the guy has been a class act – passionate about his causes, notably the environment, he's nevertheless struck a winning note of self-deprecation. Provided he could keep it up on the campaign trail, that'd be a nice attitude to have around, what with all the windbagging we're already seeing from the major contenders. Then there's this whole other part of me, this part that continues to nurture a longing for the Gore Administration that might have been. It only seems fair that a guy who wins a presidential election should, at some point, get to be president.
2. Hot Guys, Warm Planet.
When I was in high school, the really fine guys played soccer. There were a couple exceptions to that rule, but I'm talking about critical mass here. A similar critical mass seems to be developing, the world over: Now the really fine guys are environmentalists. Leonardo di Caprio is the most famous example, and with the launch of Global Cool, you can add Josh Hartnett to the list of committed greeniacs. My personal pin-up: David Mayer de Rothschild, scion of the legendary English banking clan, heartthrob to the max, author, philanthropist, extreme outdoorsman, and founder of Adventure Ecology, an expedition group dedicated to raising consciousness about climate change. Alas, probably not the kind of guy you meet at a kegger. (
3. The Lazy Environmentalist.
About a year ago, I visited a Brooklyn showroom for high-end, sustainable furniture. I dropped by because I was in the neighborhood, but after spending an hour talking to the showroom's owner, I was a convert. The guy was so smart, so committed, so charismatic. He was also incredibly practical in his advice for greening my lifestyle, full of acknowledgments about the difficulty of undertaking major changes, but prodding me, effectively, to make the easy ones. "That guy ought to write a book," I thought. Well, he has. He's Josh Dorfman, aka, "The Lazy Environmentalist," host of the show on Sirius Radio and now published missionary to the sustainability cause.