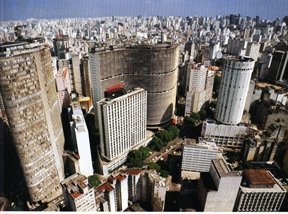 ShareThis
This week, BurdaStyle gets serious.
PLAYLIST SAO PAULO
London should be nervous. Milan, too, for that matter. One city or the other is likely to topple as a fashion capital in the next decade or so, London because the new talent keeps leaving, Milan because they can't seem to find any new talent at all. The fashion week that will emerge in place of one or the other, or possibly both, is Sao Paulo's. Latin America is desperately seeking a style hub,
and Sao Paulo, the capital of a country with two world-class cities, has recently come into its own, fashion-wise. For proof, look no further than the shop recently opened there by trend-setting design collective Surface 2 Air; the other two shops are in Paris and New York. Sao Paulo's fashion week is larger and more interesting every season, and can already claim one breakout star in Alexandre Herchcovitch; Brazil's impact on fashion can, moreover, be felt worldwide via its export of models. Presuming the country continues to produce leggy, Amazonian beauties a la Gisele, that's another reason Sao Paulo is set to conquer: For one week at least, the girls get to work from home.
Playlist's best of the rest:
1. IDIOCRACY Mike Judge hardly seems the likeliest person to start an anti-stupidity movement: As the creator of "Beavis & Butthead," he added a lot to dumbed-down culture as we know it. That said, "B&B" was always more of a comment on boobishness than its most vocal criticsand fanstook it to be; moreover, Judge has more than redeemed himself with "King of the Hill" and the cult comedy Office Space. His latest film, Idiocracy, was buried by Fox on its release, but now that it's out on DVD, Judge fans can revel in his typically perceptive commentary on modern life, disguised in the movie as the ultimate stupid future. Scathing, but also hilarious.
2. JEFF WALL at MOMA With this sprawling exhibition, New York City's Museum of Modern Art pays homage to Canadian artist Jeff Wall, a force of pictorial nature who helped usher photography as an art form into its mature phase. At a moment when the hyped-up art market salivates at idiotic sperm collage, and its ilk, the Wall show is a welcome reminder of the beauty, discipline, difficulty and profundity of truly great work.
3. Chocolate Altoids Dark chocolate plus curiously strong peppermint equals deliciousness that's not for kids. Sort of like a really pungent, really crunchy Junior Mint. But better.