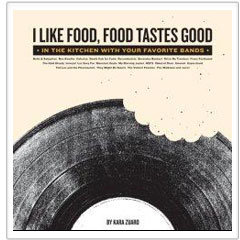 ShareThis
This week BurdaStyle says hello to summer, and goodbye.
THIS
BITES
I like naps. Over the past few years, I've developed my own little napping ritual, which involves catching up on the first ten or so minutes of my favorite NPR podcasts before I doze off, and then waking up to the familiar closing credits of shows such as Studio 360 and This American Life. A few months ago, I fell asleep to Fresh Air – Terri Gross's soft, dulcet voice makes for a particularly good send-off to sleep – and woke up again a little later with the audio still going and my head spinning. Was that Alex Kapranos, the singer from Franz Ferdinand, on Fresh Air talking about food? Or was I dreaming? This had to be some kind of weird alternastate – rock dudes do not, as a general matter, go on NPR to regale high-minded interlocutors with tales of the road, and they certainly don't go foodie. Tour dining is Taco Bell and backstage riders of vodka and Cheetos, yes?. But, no: I was definitely awake, and Alex Kapranos was definitely on Fresh Air, talking to Terri Gross about his punk-pop palate, promoting his book on that subject, Sound Bites. It was weird.
The indie-foodie fusion has blossomed into a full-bore trend. There are DJs with an online cooking show, and just in case you couldn't make Coachella, or missed out Meltdown, Kara Zuaro can provide you with a taste of the summer music scene by means of I Like Food, Food Tastes Good: In the Kitchen with Your Favorite Bands. Comprised of over 100 hundred recipes from artists such as Devendra Banhart, Death Cab and the Decemberists, the cookbook puts paid to the myth that rockers subsist on a diet of pizza and beer. They also eat ramen, cf. Silkworm's gourmand suggestion that combining ramen noodle flavors = culinary delight. On a more upscale note, Camera Obscura chimes in with a recipe for vegetarian paella and The Bad Plus offers up orecchiette with broccoli rabe. It's hard to know what to make, musically, of a few contributions – Violent Femmes' Wild Boar Ragu, for example – but others jibe nicely with the band's albums, such as folksy Okkervil River's recipe for homespun buttermilk pie. Turn on the stove, get cooking with a glass of sparkling red, summer's grooviest drink, by your side, and while the rice is boiling, pause to wonder when the indie fitness book is coming out, because after a summer of Devendra's bananas and graham crackers, trust me, we're all going to be rocking the gym.
Playlist's Best of the Rest, Summer Preview Edition:
1. Pop Werner 2007 promises a summer blockbuster season like none other: Spiderman, Shrek, Pirates of the Caribbean, Harry Potter, Fantastic Four and the Danny Ocean crew are all returning, sequel-style; meanwhile, sure-to-be behemoth films such as Transformers and The Simpsons Movie will be taking a loud crack at the opening weekend B.O. this summer, as well. Hollywood execs are ginned up for tough competition, and what with all the must-sees lined up, it's easy to imagine that none of us will catch much sunshine between May and September. But one potential blockbuster stands out from the crowd: Werner Herzog's Recue Dawn, starring Christian Slater. Largely a remake of Herzog's seminal early film Little Dieter Learns to Fly, Rescue Dawn tells the story of an American pilot trapped in Vietnam, and if that dark plotline wasn't strange enough in the season of popcorn flicks, stranger yet is the fact that Hollywood has hired Herzog to direct anything at all. Herzog is legendarily nutty, as well as a cinematic genius; the behind-the-scenes hijinks on his '70s Klaus Kinski pictures, such as Aguirre: The Wrath of God, put to shame any travels into the heart of darkness that happened on the set of Apocalypse Now. His doc Grizzly Man proved Herzog could play commercially – the film was a surprise success – but it's hard to imagine the great director taking development notes from the studio's MBAs. Advance word is that the movie is pretty amazing, and well worth a side-trip from sequeldom.
2. Pop Tarts This summer, the ladies have it. Hot on the heels of Lily Allen's breakthrough record came Amy Winehouse, with her dirty R&B odes to rehab and romance, and early summer sees the bow of the sophomore LP by Feist, Sade for the smart set. But the girl who's going to rock your world this summer is Nicole Atkins: Along with her band, The Sea, Atkins is set to conquer on the strength of ballads "Neptune City" and "The Way It Is," earth-shakers that'll break your heart. Get a sneak peek on Myspace.
3. Popsicles Ice cream's fatty. Fro-yo's second-rate. Get your licks off popsicle sticks this summer. You can make 'em at home, and make 'em however you want. And when that gets boring, bring back the frozen banana.