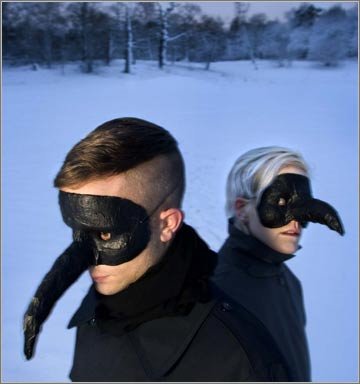 ShareThis
This week BurdaStyle gets Stockholm syndrome.
A
BAND
APART
My obsession with Sweden began with The Knife. Somehow, I managed to miss last year's hype about the Stockholm band's third album, Silent Shout, the first Knife release to make it Stateside and king of many critics' year-end lists. But the hype unearthed The Knife's earlier records, the eponymous debut and sophomore effort Deep Cuts, and from the moment I heard the latter's opening track, "Heartbeats," I was hooked. Deep Cuts is a uniquely odd album: Techno-pop propulsive and sexy invites you in, and then the record progressively deforms, creeping you out with surreal applications of vocal effects and steel drum. I would say that I'd never heard an album so simultaneously poptastic and alienating, except that I have – The Sugarcubes' Life's Too Good. The two albums don't sound alike, but like The Sugarcubes' debut, Deep Cuts establishes something entirely new in sound, and it doesn't wear out; the record is one of those rare ones that reveals something new every time you press play. It's taken nearly 20 years, but Scandinavia has finally managed to cough up Bjork's true heirs, The Knife's Dreijer siblings, and whatever small hesitation I might have had about making so large a claim was entirely laid to rest when I finally came around to Silent Shout.
It's hard to write about Silent Shout: As is true of most great records, the music operates so much at the level of the subconscious that it actively eludes description. To note that it swims in synths and looped beats reduces the cumulative effect of all that digital machinery. Reaching for metaphor, and saying that Silent Shout is redolent of 24-hour winter nights and the first pale rays of light breaking over the icy horizon, or that it exudes cinemascope introversion of a Bergman film, strikes closer to the music's heart, but it makes the band seem provincial. The best I can do, really, is to say that the first time I listened to the album through, I don't remember breathing. It makes you consider the origin of the word "breathtaking."
Silent Shout
is about to be re-released, this time packaged with a panoply of multi-media add-ons, including bonus tracks, several of the bands' gloriously weird videos, and a short film. (Some of this materials duplicates the bonus stuff on the U.S. release of Deep Cuts, but The Knife's greatness urges completism.) None of this it easy to like, but that's a mark of artists trying something genuinely new. The first time I heard Life's Too Good, too, the music frightened me. But just because a band like The Knife isn't easy to like, it doesn't mean their music's hard to love. And the artists who thread that needle don't come around very often. By my count, we've got about twenty years to wait for the next one.
Playlist's Best of the Rest, Swedish Music Edition:
1. Dungen I wasn't exactly praying for a psychedelic revival when Dungen's Ta Det Lungt hit record store shelves in 2005. An acid rock album sung entirely in Swedish? Even less exciting. But the warm and embracing psych-pop on Ta Det Lungt won me over almost instantly. Casually retro, the record was filled with songs of loose-limbed jangle, and not having a clue about the lyrics made it all the easier the get into the album's shrooming analog groove. New record Tio Bitar is on the way next month, and expectations are high. P.S. Pronounced "Doon-yen."
2. Peter, Bjorn & John Reject the backlash! This Swedish trio is as good – or, OK, almost as good – as the initial hype around debut LP Writer's Block made them out to be. Granted, first single "Young Folks" is a little overplayed; to wit, I can think of at least three February fashion shows that used it. Skip that track and head straight for "Amsterdam" a taste of the album's true magic, shuffling, low-down slack rock with insistent hooks.
3. El Perro del Mar For reasons that remain mysterious, musicians from Sweden have Spanish fetish. Jose Gonzalez can at least claim an Argentine dad, but then again, band I'm From Barcelona are not, and even if "Mando Diao" isn't Spanish, and I don't think it is, the band's name is easy to mix up with "Manu Chao," who is. Anyway, it's a little confusing, and perhaps nowhere more so than for El Perro del Mar: What seems like a band from Mexico City is in fact a Swedish chanteuse bearing more than a passing resemblance to Rosemary's Baby-era Mia Farrow. Even Sarah Assbring's singing suggest Farrow's sibilant coo, whispered in the service of the saddest girl pop numbers since Carole King was writing for The Shirelles. "Party" is a singularly depressing song, all the more so for the ways Assbring's melancholy vocals suggest, melodically, the airy pop for which Sweden is most famous. Be-bop-a-lula indeed.