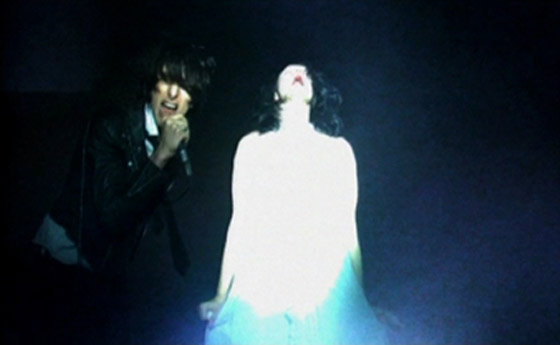 ShareThis
This week BurdaStyle goes to the dark side.

SHEENA

IS A

PARASITE

Of all the music videos I've watched in my life, the only ones ever to give me nightmares were directed by Chris Cunningham. Cunningham is probably most famous for the video about robot romance he made for Bjork's "All is Full of Love," the sweetest-tempered thing Chris Cunningham has ever committed to film. The ones that give me nightmares are my favorites, though, and most Cunningham videos are nightmares, already, perverse and magnificent, and proceeding according to their own rigorous illogic. The video-cum-short he made for Aphex Twin's "Windowlicker," for example, is a troubled night's sleep mapped out for you in advance; it's also a jaw-droppingly irreverent send-up of hip-hop vids, and any Freudian analyst's wet dream. Cunningham's been off the radar for a while, but he returned, recently, with a scabrous addition to his oeuvre, the video for The Horrors track "Sheena is a Parasite." As best I can make out, The Horrors are a better-than-good glam-punk band getting a lot of traction in the U.K. on the back of their catchy guitar hooks and crazy haircuts; the song "Sheena is a Parasite" boils down the Ramones reference of its title into about a minute and a half of pure sneer. But that's almost beside the point, when acting goddess Samantha Morton is in the shot and Cunningham is directing her in the world's most abbreviated exploration of vagina dentata. The video is revolting and hypnotic, and goes by so fast you barely have time to notice the punch it's landed to your subconscious. Welcome back, Chris. We'll see you in our dreams.

Playlist's Best of the Rest, Nightmare Edition:

1. E.T.A. Hoffmann. One of the books I most treasured as a kid was a copy of Grimm's fairy tales given me as a gift in pre-school. It was hardbound and substantial, with watercolor illustrations of scenes from the stories, and after my mom read them to me, one at a time at night before bed, I'd find myself searching those illustrations for clues to the book's inscrutably dark universe. Much later in life, in college, I'd come by a word to describe that unnerving tone of Grimm's fables: "Fantastic." Not fantastic as in, "oh yeah, that's great, fantastic," but fantastic as in "uncanny," as Freud described it, or as I, a Russian major, preferred it from Tsvetan Todorov, suspended between natural and supernatural, real and imaginary. I could go on and on about his – I spent half my senior thesis extrapolating the idea – but my point in bringing up my ivory tower past is to explain that, armed with explanations, I thought I was immune to fairy tales' strange pull. Then I read E.T.A. Hoffmann. Germany's answer to Edgar Allan Poe, Hoffmann was a principal of the country's Romantic movement and hugely influential all over Europe; that said, in the United States he's probably best known, if at all, as the writer whose story forms the basis of "The Nutcracker." I always found that ballet creepy, but it's nothing compared to "The Sandman," a very strange story that isn't really a fairy tale but nevertheless feels like one, albeit for grown-ups. I won't waste words on a summary of the plot, and if you've seen the ballet "Coppelia," you already know it. Suffice to say, Freud himself analyzed "The Sandman" and did nothing to domesticate the story's weirdness. It's fantastic. By which I mean: It's great.

2. "Cowboys". Much as I loved the Portishead album Dummy when it was released, I never expected the record to stand the test of time. The trip-hop wave would crest, and ebb, and the Portishead sound so defined the trend, it seemed hard to believe the music wouldn't date, badly. More than a decade later, I still love Dummy. Maybe not quite as much as I used to, but the best songs remain inexorably haunting. "Cowboys," off the live album Portishead recorded at Roseland Ballroom, is haunting in a completely different way. It's terrifying, kind of like having a vengeful ghost in your head. That might not sound like a recommendation, but it is.

3. Banks Violette. The scariest art exhibitions I've ever seen both happened to take place at the Whitney Museum. One was an exhibition of Francis Bacon paintings, the other an exhibition of Hopper, and each artist made me believe in Hell. Different hells, mind you, but both Hopper and Bacon came at torment sidelong, representationally. Current art-market hot commodity Banks Violette, whose work I saw for the first time at the Whitney, too, has a more immersive approach to darkness. Taking his cues from news stories of violent mayhem and ritual suicide, Violette usually situates his gigantic sculptures in rooms rigged with surround-sound death metal throbbing, and the effect is a bit like walking inside someone's very disturbed mind. The experience isn't pleasant, but it's not meant to be. As for whether the work is any good… Formally thorough, that's for sure, and aside from that, well, I'm no expert. And there's nothing more frightmarish than a person who pretends to be one, who isn't.