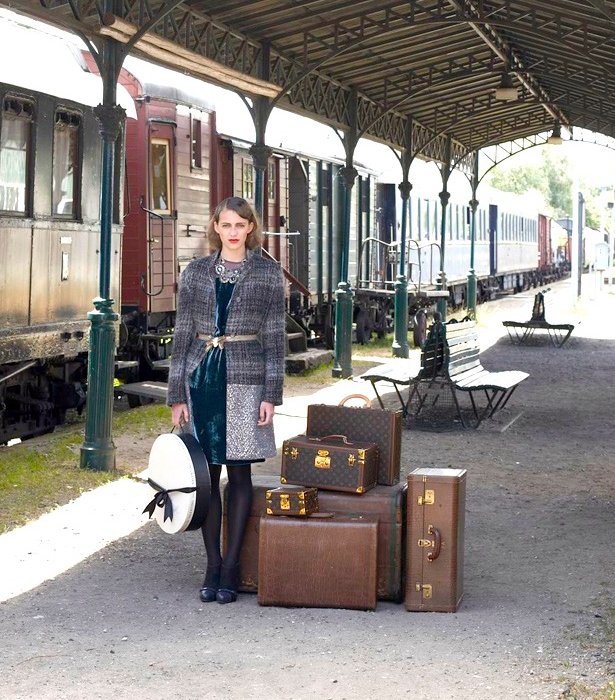 ShareThis
We want to whisk you away to the French country side in this new vintage-inspired pattern collection from burda style magazine's November 2010 issue. These garments are rich in color and look expensive. The elegant designs are made in luxurious fabrics such as velvet, taffeta, sequins and even mohair. What we love most about this collection is the nod to the 1920s, with drop waist silhouettes and vintage styling. Hope you enjoy!
This average wrap Dress is brought to life from the great fabric mix it is sewn in. It features long sleeves and a flattering dropped waistline that gives you the ability to Charleston the night away!
This Bouclé Jacket features lovely trimming from three rows of zipper tape. It has great structure and is sure to add an interesting touch to any outfit.
We absolutely love this Asymmetric Dress embroidered with sequins. The asymmetrical cut and one shoulder give it that special touch.
With this Wrap Dress you will be the eye-catcher of the evening. We love how this elegant satin wrap dress has long sleeves, wide cuffs and a dropped waistline.
In this green silk velvet Dress with transparent chiffon yoke you will always arrive looking stunning! It has an elastic band at the waist and two inseam pockets on the sides.
The One Shoulder Top has an asymmetrical shoulder line and is made from beautiful jacquard taffeta. We love it paired with the intricate Draped Skirt. This lovingly detailed skirt is very figure-hugging and features beautiful jumbo pleated drapes on one side, that give the skirt a very elegant touch.
This fabulous Two-Tone Coat is sure a looker, and since it's made from mohair, it's extra warm. This coat also offers a lovely sequin border that makes this coat perfect for evening wear.
Happy Sewing!