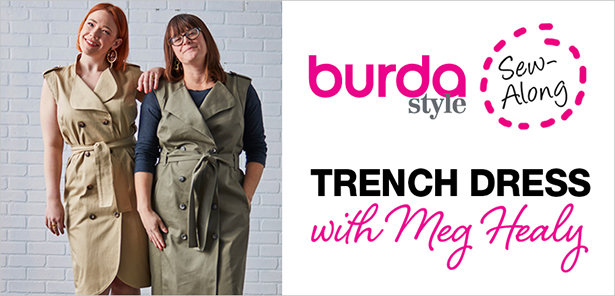 ShareThis
I know our last free sew-along recently just ended – but we have a new one in store for you launching today! Our next sew-along pattern is the perfect piece to wear during the spring and summer season when you want the sophistication of a classic trench, but the comfort of a breathable style. Read on to see more about how you can win a sewing machine and learn how to sew one of these fabulous trench dresses together for free…

From installing those inseam pockets, to inserting the lining, collar, tabs and buttons – this sew-along covers it all. Once learned, you can even take these techniques to many other pattern styles you wish to sew including jackets with similar construction details. This sew-along includes patterns for BOTH regular and plus sizes, so everyone can wear this flattering style for the season. I'll will start with sewing the Plus Size Trench Dress from start to finish and then talk about the regular size version with included sewing lesson PDF. Click here to register.



left: Photo by Dominic Lipinski – WPA Pool/Getty Images; right: Photo by Karwai Tang/WireImage/Getty Images

I think we can all agree that the new mom, Duchess of Sussex wears a trench dress fabulously and it perfectly fits into her effortlessly chic sense of style. So now we can all incorporate a little royal style into our upcoming season's wardrobe.
The Patterns:



The perfect mix of serious and relaxed – typical French fashion. This plus size trench dress includes shoulder tabs, lapels and a tying band at the waist. Choosing to sew it in a midnight blue cotton is a crowning touch. A blouse or top worn underneath on cooler days makes it a winner for the changing seasons as a simple top is a great option for the waning warm days in between.



A confident and sexy look with this dress in an Italian hem length. Classic trench details like the double-breasted placket, storm flap and tabs are naturally included. The newest update includes figure shaping panels with just the right amount of swing.
Register for the sew-along here to get both patterns!



My Sew & Tell Podcast co host Amanda Carestio modeled the plus size version and totally styled it her way, which I love. This dress can truly be worn so many ways for all the seasons!



I truly have so many plans to wear mine for the summer though. I'm going to try styling it up and down for different occasions and temperatures – and I love how the belt cinches everything in.



Filming these sew-alongs is always so much fun, and as I'm writing this right now I'm currently in the middle of filming a new one! This is the leopard jumper I wore while filming the Trench Dress Sew-along, as I always like to try and match/compliment the garments I'm sewing on camera.



Click here to register today – see you there!