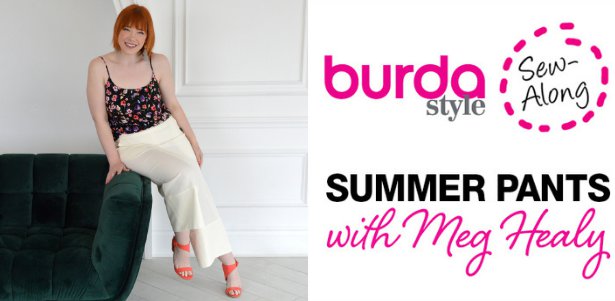 ShareThis
Very excited to announce and debut our next FREE sew-along! Sometimes you just want to wear pants in the summertime – and it's is possible with these ones that you'll learn how to sew together from start to finish. Read on to learn more about the summer pants patterns included and what prizes you could win just by registering…

From installing those hip pockets with buttons and buttonholes, to finishing the wide hem cuff and shaped waistband – this sew-along has it all covered. Even if this is your first time sewing a pair of pants, you'll be able to execute them perfectly with guidance and you can also eliminate certain components to suit your skill level. This sew-along includes patterns for BOTH regular and plus sizes, so everyone can wear this on-trend leg silhouette style for the season. I'll start with sewing the regular size pants from start to finish and then talk about the plus size version and even show how to draft them to match the exact style! You can then take those drafting skills to many other projects. Click here to register.

Every time I post about a new sew-along launch I always reflect back on how fun it is to create, film and teach these. This is a picture of me from back in May 2019 when I filmed this sew-along in Colorado. Such a great team our there I work with.
Now onto the patterns that are included in this sew-along!



The hip yoke adds an extra figure-shaping element to these cropped trousers that fall casually to a relaxed hem width. Details make the difference – here with large pockets and big buttons meant to get noticed.



These sunshine yellow 7/8-trousers also get a playful touch with trim. This time, a solid white contrasts with the rich yellow. They fit low on the waist and zip closed on the side.
And in the sew-along I'll demonstrate how to transform the plus size pattern through drafting to have the hip pockets and cuff as featured on the regular size version.



I love how mine turned out and these here are sewn in Pendleton Woolen Mills seasonless apparel weight wool in ivory who are also a sponsor of this sew-along and they are giving away three gift cards to lucky registrants! You'll be automatically entered to win when you register.



One of my favorite features of these pants are the wide cuff that really "weights" the leg silhouette.



From hot summer days, to cool summer nights – these transitional pants can even be dress up or down to suit the occasion. And the flat waistband that sits perfectly at the waist enables you to pair all kinds of top silhouettes either tucked in or over top without looking to bulky. Pants may be intimidating, but once you watch all the videos in this sew-along, you'll be able to whip some up no problem!
Click on the image below to sign up today! Free registration ends August 2nd, 2019.