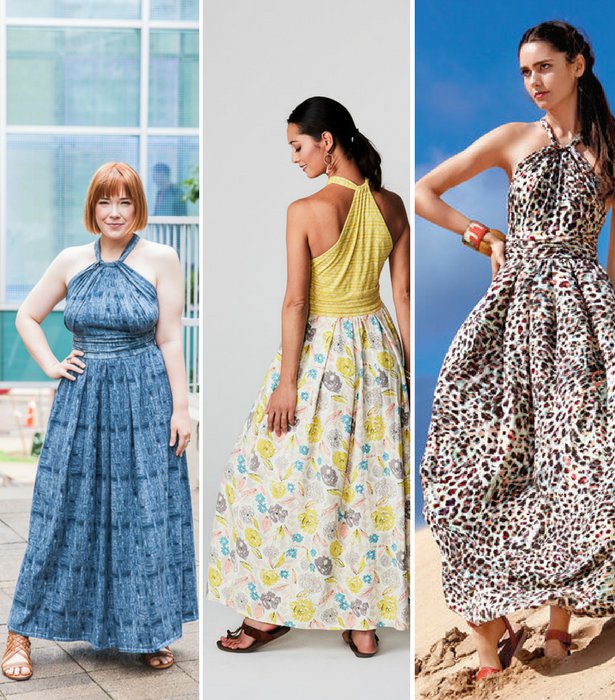 ShareThis
Only 1 more week left to learn how to sew this knit maxi dress for FREE! Read on to see some of our member variations of this dress pattern and how you can make your own too…
It has been amazing how many participants have joined this free sew-along, and I absolutely love to see how you guys have made your dresses! I really wanted to share some of the beautiful dress creations from our sew-along and what they have to say about it. If you get inspired you still have 1 more week to register and learn how to sew together one of these dresses yourself. Sign up here for free.
Cattreena made this rose printed jersey dress and here is what she had to say about the sew-along:

"First I want to say thank you to Meg for giving such clear and concise instructions and taking the time out of her busy schedule to to teach this class. I don't think I would have been able to sew this with just the instructions alone especially with how intricate the bodice construction is.
This was not my first time using a Burda pattern (I have several commercial patterns purchased from Joann's) but it was my first time working with digital sewing pattern and my first time adding seam allowances. That was not overly difficult just time consuming for me. I definitely like the idea of being able to add the seam allowance that I want to and I do like being able to instantly have access to the pattern without having to make a special trip to the store.
Eloflex thread is everything! I loved working with it! I don't work with knits much aside from making leggings for my daughter and I usually use my serger for all of it. I don't like the look of the zigzag or stretch stitch on the rightside of the garments I make, so I am ecstatic to able to use a straight stitch now!
Overall I loved the pattern, the class, the finished garment, pretty much everything! If your are on the fence about sewing this dress. Please just sew it, you will not be disappointed! "
Veronica wanted one that looked like the first one I made and her's looks great! Here is her experience with the sew-along:

"I'm so excited about my dress, I can wear it every day. It fits perfectly and the colors are just, to die for! I loved the combination Meg had in the background and I love yellow, so I looked for yellow fabric. I love to mix different patter fabric. I ordered my Art Gallery Fabric from Fabrics.com and got my Eloflex thread from my local Joann. When I heard about this thread I said: "I need this in my life". So strong and awesome to work with. I have a Pfaff machine as well, so I had the whole experience making this dress. I did use my serger to finish my seams, and it looks so professional. I did a 2" hem using my serger as well, which looks amazing. Meg, one more time, you rocked! I love taking your classes! "


Veronica has previously won one of our Member Models Challenges!. We are also bringing one back in September for National Sewing Month, so stay tuned for that.

Olga made a striking red version with floral print, and here are her words about the sew-along:

"Dear Meg! Thank you very much for your tutorial. As soon as I saw this dress in Burda Style magazine I decided to make it. But I was busy setting up my sewing blog. Now I made the dress. Your instructions are very clear, much better than in the magazine. I like very much how you explained the sewing process. So many small but necessary details! And it was first time I heard about Eloflex thread. I bought it right away and used for my dress also. I even made a small tutorial on my blog about sewing with Eloflex."


Thanks everyone who has already taken this sew-along, and again to those who shared their variations.

This sew-along ends Sept 4th, so be sure to register before then.


Happy Sewing!
Meg