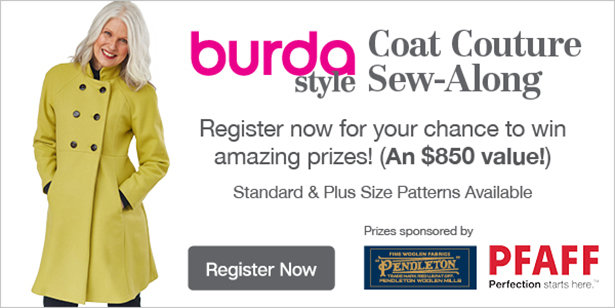 ShareThis
Another season, another new FREE sew-along! Now that you know how to sew a dress, swimsuit, and jacket – it's time for a coat. Sign up for our new free coat couture sew-along is now open until November 5th, and you also get a chance to win a PFAFF Passport 3.0 sewing machine, and Pendleton Wool gift cards!! Read on to learn more and register here.
Coats can be quite intimidating to sew yourself, but with a little help and the perfect pattern you can easily create a new couture coat for the winter in no time with this FREE sew-along!

A pea coat is a versatile style that suits many different body types, and our Pea Coat pattern from the 12/2016 issue of BurdaStyle magazine is a classic – but with a twist. It features a waistline seam that allows for a feminine A-line skirt attachment and raglan sleeves. Finished off with a collar, this classic will be your new go-to coat pattern especially since in this sew-along you'll see how it is sewn together for free with the digital pattern included.
Our plus size Long Pea Coat from the 09/2016 issue is also included so everyone can sew a coat for themselves! This pattern features a long hemline for extra warmth and back godets for extra swing. The collar on this style is a bit more dramatic and also offers opportunity for some fabric and print panelling – just cut the inner collar in a different fabric so when it's folded under and buttoned you see a pop of contrast.



Here is the sample I created for the sew-along using Pendleton Wool's Eco-Wise Fabric wool in the bamboo color. I love the vibrance and weight of this fabric and finished it off with a printed lining for a pop of contrast on the inside.



For the plus size variation, due note that I shortened it about 12" from the original pattern to conserve fabric for all my samples and also to not overwhelm our lovely model Amanda Carestio from Sew News magazine! I used the same Eco-Wise Fabric wool but instead opted for their maize color.



Just a quick behind the scenes picture of my filming this course – it is just always so much fun to travel and film these sew-alongs.



Of course I need to try on the coat too! I mean, the green color selection was all me and I love it. Can't wait to brave the Canadian winter in this cozy wool coat. If you want to learn how to make one with me for free for the winter join me here!


Remember to register before November 5th in order to get free access and have a chance to win a PFAFF Passport 3.0 sewing machine, and Pendleton Wool gift cards. Note: You do not need to finish sewing the coat in order to eligle to win, just signing up is enought and you'll have lifetime access to the patterns and videos so you can take your time sewing up your new coat.
Happy Coat Sewing!