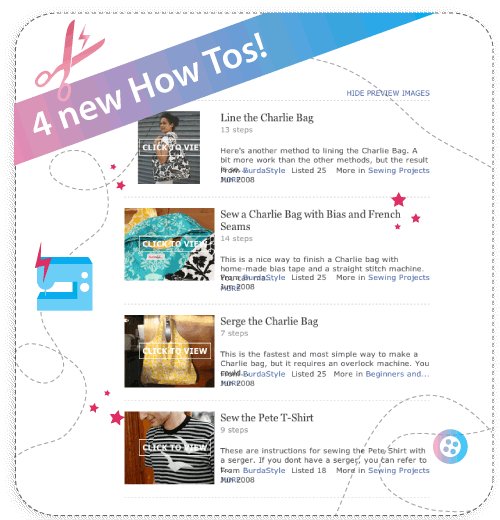 ShareThis
Hey BurdaStylers
We have four, yes four, amazing new how tos for you. Things have been a little glitchy around the site but the how tos are up and running again. Because its been a while we felt like we owed you a few. Ladies and gentlemen, your new how tos:
-Sew a Charlie Bag with Bias and French Seams
And
The first three how tos show the various ways to make the Charlie bag. One of these is bound to be the perfect fit for you depending on your skill level, resources and time. Creating a lining for the Charlie bag ensures that it wont rip when carrying your groceries or whatever else you were planning on carrying in there. By using a bias and French seams, your bag gets a polished touch. And using serger on the Charlie is a quick easy way to finish the seams…provided you have a serger.
The Sew the Pete T-Shirt how to not only shows you how to sew the Pete with a serger, it gives the long awaited size chart conversion! So if you have been wondering what S,M,L,XL means look no further than the Sew a Pete how to.
Have a good night everyone!