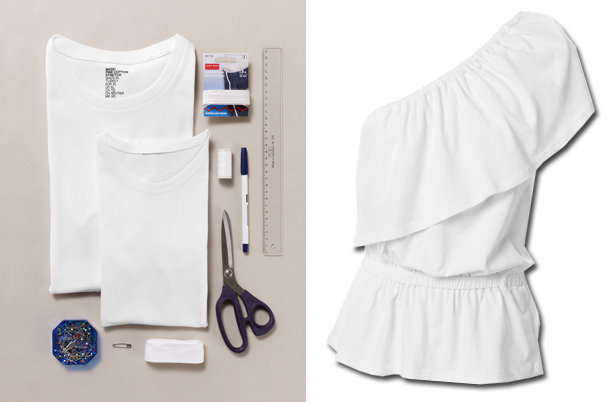 ShareThis
Flounces are great for summer time! Here you can see how to create your own flounce from a plain T-Shirt in three simple steps.
Materials:
- 1 man's T-shirt and 1 smaller woman's T-shirt.
- Twill tape, 3 cm (11/4 in) wide, length = circumference of man's shirt plus 5 cm (2 ins).
- Wide elastic (like used for boxer shorts), 2 cm (3/4 in) wide: approx. 0.80 m (32 ins).
- Elastic, 1 cm (3/8 in) wide: approx. 0.70 m (28 ins).
- Vanishing marker (Prym).
- Sewing thread.
- Safety pin.
Step 1:
On man's shirt, mark the diagonal ­upper edge and the armhole edge. Cut these edges as marked.
Step 2:
On woman's shirt, cut off lower edge, to use as ruffle, and cut one side seam open
Step 3:
On ruffle piece, press narrow edges to wrong side, 2 cm (3/4 in) wide, turn raw edges under, and stitch in place. Beginning at side seam, pin open upper edge of ruffle to upper front edge of man's shirt, then along upper back edge of shirt, as far as ruffle reaches (wrong side of ruffle ­faces right side of shirt). Stitch 2 cm (3/4 in) from fab­ric edge. Press upper front and back edges to wrong side, 2 cm (3/4 in) wide. Stitch 1.5 cm (5/8 in) from fold edge, leaving a section of seam open, for the elastic. Pull 1 cm (3/8 in) wide ­elastic into upper edge of top. Try top on and adjust elastic, if needed. Also mark the waist level on the top. Stitch ends of elastic together. Sew seam opening closed.
For the waist casing, pin twill tape to inside of top with upper edge of tape at marked waist. Turn ends of tape under at one side seam. Edgestitch upper and lower edges of tape in place. Pull 2 cm (3/4 in) wide elastic ­into this casing. Sew ends of elastic together, to match waist comfortably.
Also try amping up this simple skirt by adding a couture ruffle with color contrast!
Materials:
Straight skirt, pieces of fabric in colour of skirt and in contrasting colour, each 65 × 65 cm (26 × 26 ins), sewing thread, and tailor's chalk
Instructions:
Pin fabric pieces together, right sides facing. In centre, draw a circle with 22.5 cm (9 ins) Ø. Then draw the outer flounce edge 18 cm (7 ins) from circle line. Cut flounce from both layers of fabric, adding 5 mm (3/16 in) wide seam allowances. Cut across flounce ring at one point. Stitch fabric pieces together, 5 mm (3/16 in) from all edges, leaving approx. 10 cm (4 ins) open on one narrow edge, for turning. Trim allowances diagonally across corners. Turn flounce right side out and press edges. Topstitch flounce close to outer edge and narrow edges, thereby ­stitching opening closed. Pin flounce to skirt front, as shown in photo (on a dressmaker's dummy or on your body, with the help of a friend), making small tucks, if needed. Edgestitch ­attachment edge of flounce in place.
Happy DIYing!
Photos: Jan Schmiedel