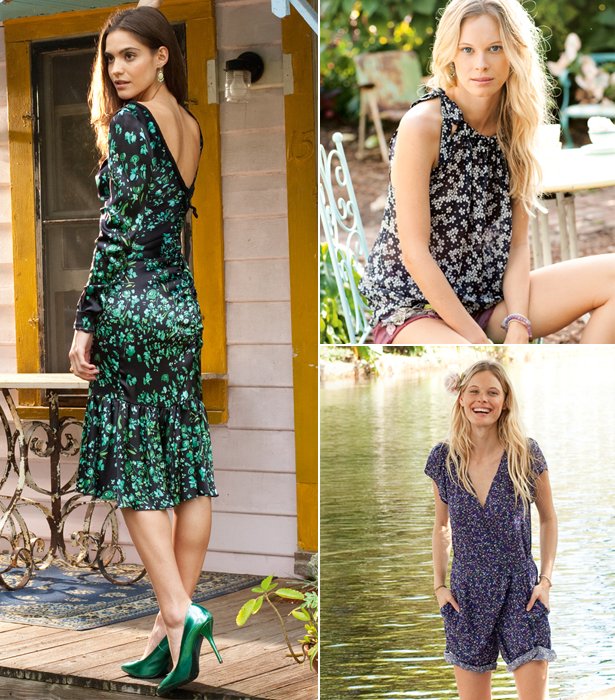 ShareThis
Many thanks for the spring flowers and fashions! Floral prints are sprouting up everywhere now – on dresses, shirts, and even accessories. Here is the new pattern collection from the May 2013 issue of burda style magazine that feature wonderful styles for your wardrobe. We love all the variety, check it out below!
This comfortable Jumpsuit is not intended for working in the garden, but simply for pleasure! It fits casually and is closed at the waist by a tie band.
Perfect for the garden party, but also for the office. A yoke at the waist, ending in a point at the bust, adds a classic touch to this sleeveless Dress. Two angled patch pockets on the front provide storage space for small change, keys, and business cards.
This flowery knee-length batiste Dress brings back memories of childhood days spent in your grandmother's garden. Its figure-hugging bust section is embellished at the back with little buttons and lace, while on the skirt, stitched-on lace gives the impression of hemstitching.
This Long Shirt with low-cut armholes is a romantic eyecatcher for the beach, picnic, or garden party. An Underdress like this one is a must beneath the transparent chiffon.
Short and sweet is this loose fitting Short Jumpsuit. Here's an airy alternative to a long jumpsuit, and when it gets particularly hot, the knee-length legs can be turned up to form shorts.
The highlight of this sexy Dress is its low-cut back. At the front it is rounded off in a boat neckline adorned with gemstones. The flounce sewn to the hem edge flows with each step like a sea of blossoms.
These loose Pants are comfy and easy to slip on when running out into the nice weather. They can be shaped at the waist by an encased tie band. These sewing instructions have step-by-step images and instructions, which make them easy to sew!
This slightly transparent, floral print Top just oozes summertime! It has airy details such as spacious armholes and a drawstring at the neckline.
If you like to show some skin, you'll love this fitted Mini Dress. At the back it's low-cut and gathered in the center. Lace blossoms are sewn-on with a few hand stitches that scatter all over the dress.
Happy Sewing!