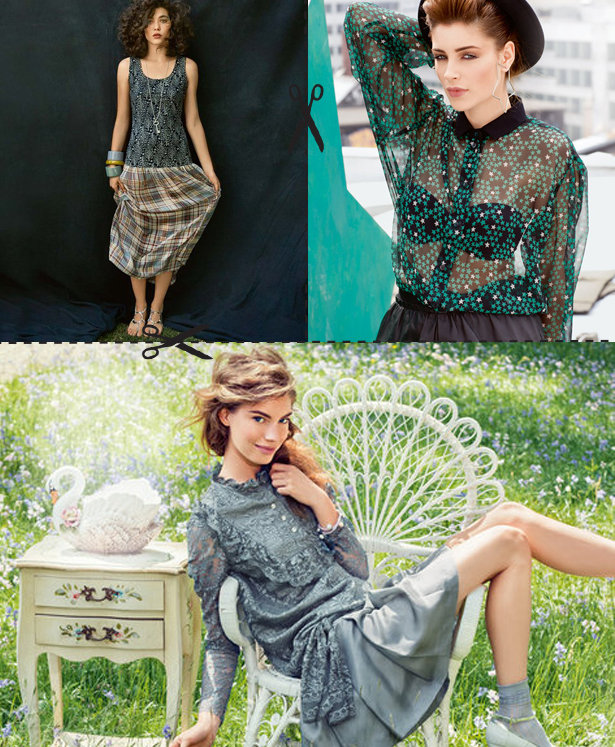 ShareThis
Combat hot weather with outfits in our favorite lightweight fabrics. Styling boards show you how to get our favorite looks in chiffons and sheers, and get tips for sewing delicate fabrics with next week's web seminar.
The Pleated Maxi Skirt is right on trend for summer with it's luscious tangerine color and leg slit. Make it part of your summer wardrobe three different ways.

Cropped Denim Jacket, Cropped Chambray Blouse, Hidden Button Blouse, Pleated Maxi Skirt
A chiffon maxi is totally feminine, but you can mix up this delicate piece with a denim jacket, frayed cotton scarf, and plain white cami. The Cropped Chambray Blouse is another casual top with a tomboy-meets-sweet feel. Add a straw fedora for the perfect daytime outfit. Or, dress it up for evening with a flowing top like the Hidden Button Blouse. This top looks gorgeous in a printed challis, or color block with another neon shade.
For longer lasting pleats, make this skirt in a synthetic chiffon. The brighter, the better!
Sheer blouses are another trend that works so well for summer evenings. They're cool for hot weather, but still give you a little coverage.

Sheer Blouse, Chiffon Blouse, Pencil Skirt with Exposed Zipper, Ruffle Neck Blouse
Go bold with the Sheer Blouse worn over a bralette with high waisted shorts. It's a peekaboo party look for the brave! The Ruffle Neck Blouse and Chiffon Blouse are just as alluring, but you can make them more subdued for the office or going to dinner. Just pop a camisole underneath and tuck them into a pencil skirt or pair of high waisted trousers. The Pencil Skirt with Exposed Zipper has an extra edge.

Sheer Wrap Dress, Tank Dress with Gathered Skirt, High Tea Dress
Sheer fabrics really shine in dresses. They're cool, lightweight, and drape beautifully. Who can resist the Sheer Wrap Dress in an old fashioned floral, the floaty skirt of the Tank Dress with Gathered Skirt, or the lacey bodice of the High Tea Dress These dresses make a statement with dreamy fabrics, so all you need are a soft makeup look (and maybe a slip!) to stand out.
Sheer fabrics aren't always the most fun to sew. Tough to press, easy to snag, and begging for special finishes and gentle treatment, chiffons can be a sewer's nightmare! Fight the fear with Monday's web seminar. Strategies & Techniques for Sewing with Sheer to Very Lightweight Fabrics shows you techniques for working with these fabrics at every stage of construction, how to manage unruly fabrics, and the best seams, seam finishes, and hemming techniques. Register now and master those summer garments!