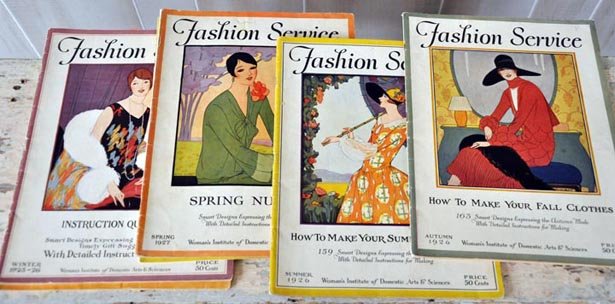 ShareThis
As creator of the Vintage-Inspired Modern Style Design Challenge, Amy Barickman shares the history and inspiration behind this exciting competition, happening right now on BurdaStyle!
In the past few weeks, I've shared with you Mary Brooks Picken's role as an authority on the home arts and as an innovative entrepreneur. But through her work with The Woman's Institute (which offered fashion-focused programs in Millinery and Dressmaking and published the Fashion Service Magazine) —and especially after her arrival in New York City— Mary also became a well-known figure in the elite world of New York fashion.
In 1925, Mary moved to New York to serve as the dressmaking editor for the popular magazine, Pictorial Review. By this time, US culture was sliding comfortably into the time of the "roaring twenties", and Coco Chanel was making a name for herself in the realm of haute couture. Mary often made trips to Paris to cover fashion events, which she wired back to New York by telegram. She described Chanel as, "an amazing woman, full of ideas, of energy, of genius."
As Mary's renown grew, her expertise was sought out by colleges and schools across the country, as well as major department stores and fabric manufacturers. For years, she maintained a studio in New York City to hold classes and workshops. She wrote over 100 books about the various steps of dressmaking and sewing— but it is important to remember that these books often doubled as a style guide. Fashion, hair, makeup, and beauty tips of the times were all topics that Mary wrote about in her sewing books. In 1957, she became the first woman to publish a dictionary. The Language of Fashion (later renamed The Fashion Dictionary) was one of Mary's most lasting accomplishments.
Some of Mary's accolades in later years included serving as co-founder and President of the Fashion Group, becoming the first woman trustee of The Fashion Institute of Technology, and being one of the five original directors of the Costume Institute (now part of the Metropolitan Museum of Art). She also knew the fashion designer Eleanor Lambert, and was part of the group who started New York Fashion Week in 1943. Mary maintained a permanent presence at New York Fashion Week throughout her life, faithfully attending well into her 80's.
Though she was never a runway fashion designer, Mary Brooks Picken was a monumental force behind numerous fashion institutions that are familiar to us today. Her sharp eye and keen business sense led her to relationships and opportunities with some of fashion's biggest names of the day. But perhaps most importantly, Mary used her role as teacher to reach millions of individuals, eager to learn the skill of making something with their own two hands. The Woman's Institute alone saw over 300,000 students between 1916 and 1937, and with her gift for marketing, Mary's work with brands like SINGER and Coats & Clark would spread her words far and wide.
I am inspired by Mary's work and by vintage fashion trends every day. In 2010, I published my book Vintage Notions, which features vintage sewing patterns, recipes, projects, Mary's own words of wisdom, and some of my own wisdom. Through my pattern company, Indygo Junction, I use vintage styles as inspiration for creating new, modern designs. This video highlights some of our recent fashions. Now, with the Vintage-Inspired Modern Style Design Challenge underway, Mary's legacy in innovative fashion design continues! To learn more and see starting patterns for this contest, watch the video below: